UK withdraws some embassy staff from Libya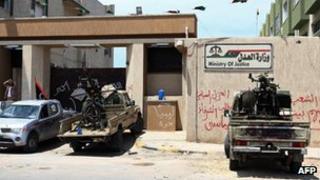 The UK has withdrawn some embassy staff in Libya in response to "ongoing political uncertainty", the Foreign Office says.
It said it was temporarily withdrawing a "small number" who work with Libyan ministries.
Armed militias have recently been blocking access to ministry buildings to push their political demands.
However, the UK embassy remains "open as usual", including for consular and visa services.
Last month a car bomb exploded outside the French embassy in Tripoli, wounding two French guards and several residents.
It was the first major attack on a foreign embassy in the Libyan capital.
The Foreign Office currently advises against all but essential travel to Tripoli and against all travel to other parts of Libya, such as the eastern city of Benghazi.
The US consulate in Benghazi was attacked by armed men in September 2012, leading to the killing of ambassador Christopher Stevens and three other American officials.
Last week the FBI released photos of three men it says were on the grounds of the US consulate in Benghazi when it was attacked last year.