Police sergeant who sold story to Sun jailed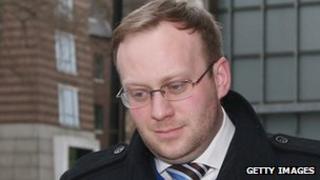 A former Brighton-based police sergeant who sold a story to the Sun newspaper has been jailed for 10 months.
James Bowes contacted the Sun and the News of the World on three occasions, offering to sell information.
In June 2010 Bowes, 30, sold a story to the Sun about a fox attack on a three-year-old at a birthday party, and received £500 from the paper.
He also tried to sell information about the daughter of celebrities Peter Andre and Katie Price.
Last month Bowes, from Steyning, West Sussex, pleaded guilty at the Old Bailey to one count of misconduct in public office.
He is the fourth police officer imprisoned after prosecutions under the Met Police's Operation Elveden, which is investigating inappropriate payments from journalists to public officials.
The sentencing hearing on Thursday heard Bowes emailed the News of the World's news desk in April 2010, giving details about an investigation into Mr Andre and Ms Price, who were separated at the time, after their daughter, Princess Tiaamii, received a slight injury.
The investigation by child protection specialists showed that nothing untoward had happened.
Bowes, a police sergeant on the Sussex Police neighbourhood policing team, asked for anonymity in the email, fearing he might lose his job and be prosecuted. He did not receive any money for the story.
'Foolish attempt'
The story was printed with information from another source and Bowes was never paid.
Mr Justice Fulford told Bowes: "You have made available to the press confidential information concerning children.
"Your explanation is that it was a foolish attempt by you to be in some part associated with notorious or high-profile cases."
Bowes had abused his position of trust and undermined the relationship the police had with the public, he said.
Mark Bryant-Heron, prosecuting, told the court that Bowes had access to the police computer to get information about three incidents in 2010.
Regarding the fox attack, Bowes had emailed the Sun the contact details of the parents of the child.
The father told the court he had to move his family away from their home until the story had died down.
On the third occasion, Bowes offered information about the investigation into serial killer Peter Tobin. He said he had details about a clairvoyant member of the public who had contacted police to say there were bodies buried in Brighton.
The person was later contacted by a journalist, but no story was published and Bowes was not paid. However, the psychic said she had lost confidence in the police.
Stephen Wedd, defending, said Bowes had donated £500 to the Crimestoppers charity, and had been dismissed by Sussex Police.