Prince Charles hits out at climate change sceptics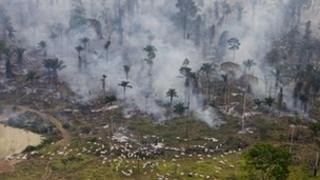 World leaders must "act now" to protect the rainforests or risk the Earth becoming a dying patient, the Prince of Wales has warned.
In a speech to ministers and tropical forest scientists, he said his work on climate change could be "disheartening" but action was needed because the risk of doing nothing was "too great".
"The doctor must act on what evidence is already there," Prince Charles said.
But one climate-sceptic think tank has dismissed his comments as "poisoning".
'Act of suicide'
Prince Charles, who is known to have strong views on the environment, was making a speech at St James's Palace in central London to ministers from the UK and abroad, and tropical forest scientists.
He set up the Prince's Rainforest Trust in 2007 and has previously accused those ignoring damage to the environment of committing an "act of suicide on a grand scale".
On Wednesday, he said it was "disheartening" that he had to repeat himself to the point that it was becoming an "incessant nightmare".
Politicians must have "the courage to face down a storm of opposition from all sides", he added, describing those who questioned the need to act as "the incorporated society of syndicated sceptics and the International Association of Corporate lobbyists" .
He said the threat to the planet was the "greatest risk we have ever faced".
Likening the Earth's condition to that of a sick child without a full diagnosis, he said: "The doctor cannot wait until results of tests come back from the lab.
"There is an urgency that depends upon the risk involved, and given that this is the greatest risk we have ever faced, surely, as the doctor, we can't wait to act."
'Apocalyptic rhetoric'
Energy Secretary Ed Davey told the audience the science was "overwhelming" and that "climate change threatens every man, woman and child".
But Benny Peiser, director of the Global Warming Policy Foundation - a climate-sceptic think tank set up by former Conservative chancellor Nigel Lawson - sharply criticised the prince.
"He doesn't make himself popular by attacking half the British public, who are known to be sceptical."
Dr Peiser said the heir to the throne should "have a conversation with his father", who he said had a different view.
"It's not about the science," he said. "It's about the apocalyptic rhetoric that is poisoning the debate."
And Graham Smith, who runs the anti-monarchy Republic group, said the prince should stay out of politics, "especially when government ministers and MPs have a different view".
"But even if they all shared his view, it's a political issue and he shouldn't be getting involved."