Wallace and Gromit promote British holidays in new advert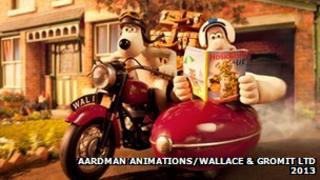 Wallace and Gromit have landed a new job convincing the British public to spend their holidays in the UK.
The hapless inventor and his dog, who once holidayed on the moon, star in an advert from VisitEngland, backed by the other UK tourist boards.
It shows them at top tourist venues, after an abortive attempt to go abroad by firing themselves from a cannon.
It is part of the government's "Great Adventure" campaign which aims to boost the tourist industry.
Nick Park, the creator and director of Wallace and Gromit, said: "Leisure time has always been very important to Wallace & Gromit, so it's great to see them making this holiday choice.
"A nice cup of tea and some tasty local cheese is always a favourite so they won't be disappointed with their holiday in the UK."
After failing to take off in the cannon, Wallace takes Gromit's advice and considers holiday destinations in the UK.
A montage of their holiday postcards shows them Morris dancing in front of Stonehenge, dressed as beefeaters at the Tower of London - and, inevitably, the cheese-loving duo also visit Cheddar Gorge.
"Universal appeal"
VisitEngland chose Wallace and Gromit, with the support of the tourist boards of Scotland, Wales and Northern Ireland, to promote the new "Great Adventure" programme, a £4m campaign aimed at inspiring the UK to holiday at home.
The organisation, which supports and promotes tourism in England, said: "Wallace and Gromit are wonderful ambassadors for holidays at home.
"They are a quintessentially English double-act with universal appeal at home and abroad, and I'm sure they will capture the public's imagination."
It is hoped that the advert will boost domestic tourism and inspire over a million overnight stays.
Maria Miller, the secretary of state for culture, media and sport, said: "The new 'Great Adventure' campaign, starring the much-loved Wallace and Gromit, will showcase fantastic UK holiday destinations, delivering an £80m economic boost."
Multi-award winning pair
Wallace and Gromit's first film involved them going on holiday to the moon. In A Grand Day Out, they were on a quest for cheese.
Since then they have been among the biggest successes in British animation. Every Wallace and Gromit film up to and including their most recent, "A Matter of Loaf and Death", has won a Bafta.
The film also achieved a record audience of 16.15m when it was originally broadcast on Christmas Day in 2008, the highest for any programme that year.
They have won three academy awards. "The Curse of the Were-Rabbit" won best animated feature in 2006 and "The Wrong Trousers" and "A Close Shave" won best animated short film, in 1993 and 1996 respectively.
Around 20 people at Aardman, the animation company which created Wallace and Gromit, worked on the advert and production took just over three months.
But the British company threatened to leave the UK in 2011, claiming it had become too expensive to make the animations in the UK.
Head of TV, Miles Bullough, said at the time they were "considering offshoring" the production as the government did not give animation companies any tax credits.
Merlin Crossingham, the creative director, said he was "really proud" that the characters had been chosen for the campaign.
"Wallace and Gromit are famous for having great British adventures and this time we hope that they can help inspire people to have their holidays in the UK."
Previously VisitEngland had turned to real-life celebrities to promote holidays in the United Kingdom. A television advert from 2012 showed Stephen Fry, Julie Walters and Rupert Grint, among others, outlining the benefits of a holiday with "no passports, no jabs, no visas, no euros".
The new advert will run from 12 May and will be seen on television, in the cinema and across the internet and on demand services.