Conservatives won't change course, says William Hague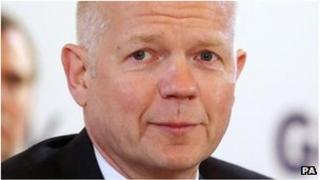 William Hague says the Conservatives do not need a "drastic change of course" despite poor local election results.
The foreign secretary was responding to a surge in support for the UK Independence Party, which saw it won 147 seats - 139 of them gains.
Mr Hague told Sky News the government was tackling the issues - immigration, Europe, the economy and welfare - that people were concerned about.
He said UKIP was the "current vehicle" for protest votes.
UKIP leader Nigel Farage, speaking to the BBC, said the party was "here to stay".
The elections saw the Tories lose control of 10 councils but retain 18. Despite losing 335 councillors compared with the last time the elections were held in 2009, they still had 1,116 elected, while Labour had 538 with 352 Lib Dems and 147 UKIP councillors elected.
Contests took place in 27 English county councils and seven unitary authorities, as well as in Anglesey. About 2,300 council seats were up for grabs in England, in a major mid-term test for the coalition government.
'Not an indulgence'
Mr Hague said voters who backed UKIP had to be respected, but he said the government needed to get across the message that it was tackling the issues they cared about.
He also said it was "fair game" to claim UKIP's spending commitments "did not add up", adding that it was currently the "popular vehicle" for the protest vote, saying that a number of different parties had benefited from such a status over the past 30 years.
He said: "It's not a matter of changing course, but it is a matter of pointing out that it is a choice at the next general election between a Conservative prime minister and a Labour prime minister and we are doing our utmost to tackle the issues that people are concerned about in this country.
"A general election is not an indulgence as a local election or by-election can be. It is a choice - do you want a Conservative government that is going on to carry on its important work and hold a referendum on the European Union or do you want a Labour government that would go back to all the things that went wrong under Gordon Brown?"
A number of Conservatives, including former chairman Lord Tebbit, have responded to the rise in UKIP support by calling on the party to firm up the promise of a referendum on UK membership of the European election if it wins the next general election.
Defence Secretary Philip Hammond told the BBC's Andrew Marr Show that he would welcome a draft bill being published ahead of the election, so voters could see what they would get under a Conservative government.
'Blind spot'
Conservative chairman Grant Shapps told the BBC's Sunday Politics a Referendum Bill "saying 'this is what we will do'" would be published, but said it was not due to go through Parliament before the election because their Lib Dem coalition partners oppose it.
UKIP leader Nigel Farage had earlier told BBC One's The Andrew Marr Show that his party was "fundamentally changing" British politics and that they were "here to stay".
He also suggested people would not believe any pledge on an EU referendum from David Cameron, who he said had been pro-EU, pro-immigration and pro-wind turbines since he became Conservative leader in 2005.
With continuing focus on the impact of the UKIP performance on the Conservatives, the man Mr Cameron beat to the leadership eight years ago, David Davis, was asked on Sunday Politics whether there were too many Old Etonians in Downing Street.
Mr Davis replied: "I don't know. I mean, this is a blind spot. I mean, it's not just about class, this problem of being out of touch is not about class or cliquishness.
"After all, if it were, Boris Johnson would have a problem with it too, and he clearly gets by it. But it does open up a weakness. It does allow other people to accuse us of being out of touch. And that's serious."