'Secret justice' warning from leading judges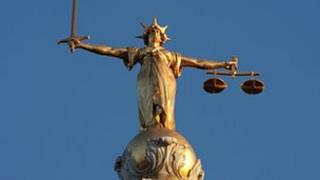 Leading judges have issued a warning against secret justice in order to protect a "fundamental principle" of the court system in England and Wales.
The new guidance states that anyone found guilty in cases of contempt of court can "never" be sent to prison without the public being told.
A woman was reportedly jailed secretly by the Court of Protection recently for disobeying its orders.
The court decides on issues affecting mentally incapable people.
The claims, reported in the Daily Mail, suggest the woman disobeyed orders relating to care for her 80-year-old father, who was suffering from dementia.
Fundamental principle
The "important guidance" for the judiciary was issued during a brief hearing at London's Royal Courts of Justice by the Lord Chief Justice of England and Wales, Lord Judge, and Sir James Munby, president of both the High Court's Family Division and the Court of Protection.
They announced: "It is a fundamental principle of the administration of justice in England and Wales that applications for committal for contempt should be heard and decided in public, that is, in open court."
The judges made it clear that "this principle applies as much" to applications for committal for contempt of court in the Court of Protection and in the Family Division as to committal applications in any other division of the High Court.
These courts are able to use discretion to decide whether or not to carry out proceedings in private when a case relates to a child.
However, the judges said the fact that a case relates to a child "does not of itself justify the application being heard in private".
Equally, the fact that a hearing "may involve the disclosure of material which ought not to be published does not of itself justify hearing the application in private if such publication can be restrained by an appropriate order", they said.
They went on to add that if a case is heard in private and a person is found to be in contempt then the court must give the person's name and state "in general terms" the nature of the contempt and the punishment being imposed.
The guidance, which is to be published as a matter of "urgency", emphasises that "there are never any circumstances" in which someone who is found to be in contempt of court can be imprisoned without the details being "publicly stated".
It comes after Justice Secretary Chris Grayling wrote to Sir James asking him to consider whether the proceedings at the Court of Protection could become more open. He wants the judge to include its workings in a review of proceedings in family courts.