Afghan interpreters in legal bid for UK settlement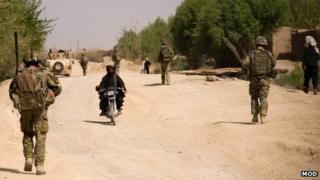 Lawyers for three Afghan interpreters who worked for British forces are starting legal action to try to win them the right to settle in the UK.
They have issued a High Court claim for a judicial review of the government's decision not to treat them in the same way as interpreters in Iraq.
The Iraqis were given the right to resettle in the UK after the war.
Prime Minister David Cameron says officials are drawing up "generous" options for the Afghan interpreters.
Many of the 500 or so interpreters employed by the Ministry of Defence in Afghanistan say they have received serious threats to their lives, while some have already fled to the UK to claim asylum.
Several have told the BBC of their worries about what will happen once British troops leave.
On Wednesday, Mr Cameron told the BBC that he had asked officials to draw up an offer to encourage the interpreters to stay at home and rebuild their country.
This is despite Deputy Prime Minister Nick Clegg having argued that the UK should help the Afghan interpreters to move and be offered asylum if necessary.
In hiding
From the very start of the campaign in Helmand, interpreters have played an essential role in a rural areas where few speak English, not only to translate the language, but also to bridge the cultural divide.
Often, it is Afghan interpreters who realise first that a patrol is in danger, and almost all say that they have faced specific threats from the Taliban - and even, in some cases, from Afghan police or officials, some of whom regard them as "spies" for foreign forces.
Mohammed worked as an interpreter for British forces in Helmand from 2006 until he was injured by a Taliban bomb.
"I was receiving intimidation threats, by phone and in person, and it came to a point where I had to make a decision and flee my country," he said.
"It was not an easy thing, to leave my family behind," he said.
Mohammed admits that he still fears for his family, some of whom he says are now living in hiding in Afghanistan.
In June 2011, Mohammed fled to the UK to claim asylum.
After a legal battle highlighted in the Times newspaper, he was allowed to stay.
Immense bravery
He is now one of the three Afghan interpreters named in the legal action being brought by solicitors Leigh Day.
The law firm claims they should be given the same rights that the UK gave to its interpreters in Iraq - either one-off financial assistance or exceptional indefinite leave to remain in the UK with help to relocate, or the opportunity to resettle through the UK's Gateway programme run in partnership with the United Nations High Commissioner for Refugees.
Rosa Curling is the solicitor at Leigh Day representing the interpreters.
"We are talking about a finite number of individuals, with their dependents," she says.
"We're talking about recognising the risk and the immense bravery they showed for the British government and British forces abroad, and we have to realise they are in danger directly because of that work.
"And we must provide them with a proper resettlement package."
Several leading military figures have also called on the government to offer the Afghan interpreters the same deal as the Iraqis.
Many of them believe the UK owes its Afghan interpreters a debt of honour.
They include Lord Ashdown, Liberal Democrat peer and a former Royal Marine, who said: "The principle is established. We did it in Iraq, because these people stood shoulder to shoulder with us.
"We recognised that in Iraq, so how can we not do so in Afghanistan? Our forces could not do their job without them. So let them come back here. Relocation is the right thing for those who want it."
The government is expected to announce its plans within weeks.
In the meantime, the Ministry of Defence says: "People who have put their life on the line for the United Kingdom will not be abandoned.
"We take our responsibility for all members of staff very seriously and have put in place measures to reduce the risks they face... We follow an agreed cross-government policy for considering cases of intimidation or injury on a case by case basis."
Campaigners also hope that they can sway the government with a petition on behalf of Afghan interpreters due to be handed in to the government later.
Several other countries who have fought in Afghanistan, including the US, Canada, New Zealand and Australia, have already put in place schemes to offer at least some of their interpreters asylum, although there are quotas or other caveats.
The UK coalition government - in particular the prime minister and Defence Secretary Philip Hammond, though not the Liberal Democrats - is thought to favour offering incentives for Afghan interpreters to stay at home, rather than a blanket offer of asylum.
It has, however, made clear that individuals deemed to be in danger will always be able to apply for asylum.
But, as Lord Ashdown points out, if interpreters' lives really are under threat, they may flee their country with no financial guarantees rather than remain and take the risk.