Afghanistan roadside bomb kills three British soldiers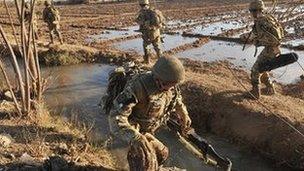 Three British soldiers have died after their armoured vehicle was hit by a roadside bomb in Helmand, Afghanistan.
The soldiers were from the Royal Highland Fusiliers, the 2nd Battalion The Royal Regiment of Scotland.
Six other soldiers were injured in the bomb blast on Tuesday. Next of kin have been informed.
The attack was on a Mastiff vehicle, deemed one of the safest. David Cameron said he would consider "carefully" how the deaths had occurred.
It is the first time British soldiers in a Mastiff vehicle, which was introduced in 2007, have been killed by a roadside bomb, the MoD said.
The blast occurred when the soldiers were travelling on a routine patrol in the district of Nahr-e Saraj.
Afghan officials in Helmand told the BBC the bomb was made with "potent explosives and had metals and other items aimed at inflicting massive destruction".
The three soldiers died of their injuries despite being evacuated by air to the military hospital at Camp Bastion, the MoD said.
The BBC understands seven military patients have been flown out of Afghanistan on a medical evacuation flight.
They landed back in the UK on Wednesday afternoon and were taken by ambulance to Birmingham's Queen Elizabeth Hospital, the specialist centre for injured troops.
The Ministry of Defence would not say how many of the passengers were in the explosion.
The number of UK service personnel to have died since operations in Afghanistan began in 2001 is now 444, with the latest deaths bringing the total of British troops killed in Afghanistan this year to six.
David Cameron told Radio 4's World At One programme: "We have done an enormous amount to improve the quality and quantity of protective vehicles that our soldiers use out in Afghanistan and this particular vehicle as I understand it had a pretty good record of withstanding blasts from IEDs (improvised explosive devices).
"So I'm sure we want to look at that carefully and put in place everything we can to make sure our brave men and women have the best protective equipment."
He also paid tribute to the soldiers who died and said it was "a reminder of the high price we have paid as a country to help give this country a chance of safety and security in the future".
The spokesman for Task Force Helmand, Major Richard Morgan, said: "Their deaths come as a great loss to all those serving in Task Force Helmand. Our thoughts and prayers are extended to their family and friends at this difficult time."
Scotland's First Minister Alex Salmond said the armed forces "deserve our deepest gratitude and respect for the job they do in some of the most difficult and trying circumstances imaginable".
The incident underlined the threats faced by British personnel as they continued to hand over security operations to their Afghan counterparts, ahead of UK combat operations concluding by the end of next year, an MoD spokesman said.
He said security in Helmand was improving, with Afghan forces now responsible for the bulk of the province - but that the environment in which UK troops operated remained "risky and dangerous including the threat of improvised explosive devices and insurgent attack".
The BBC's defence correspondent, Caroline Wyatt, said the Mastiff armoured vehicle has long been deemed one of the safest of all armoured vehicles.
Our correspondent said vehicles British troops use minimise risks and roads are checked before troops drive down them. The latest deaths happened on a well-used road and represented "extremely bad luck", she said.
Former Army chief of staff, Lord Dannatt, told Radio 4's Today programme the Taliban had found a way of overcoming the Mastiff's protection.
"It would seem that this was an extremely large bomb that was so powerful that actually it was able to cause fatalities within the vehicle itself," he said.
"My understanding in talking to the Ministry of Defence is that in all probability it was a very large device in terms of the amount of explosive and it may well have physically lifted up the vehicle and possibly even turned it over."
The deaths double the number of British troops who have died this year, our correspondent said, although these are the first to be suffered by 1 Brigade, who took command of Task Force Helmand earlier this month.
It is the first time since last September that UK forces have had soldiers killed by a roadside bomb. Members of the Afghan army and police, as well as civilians in Afghanistan, are often killed or maimed by roadside bombs.
British troops are due to leave Afghanistan by the end of 2014, when all Nato combat operations are due to finish, although a small number will remain in support roles.
The number of British troops in Afghanistan was reduced to 9,000 before the end of 2012 and is set to fall to 5,200 by the end of 2013.