Britons jailed for four years in Dubai on drug offences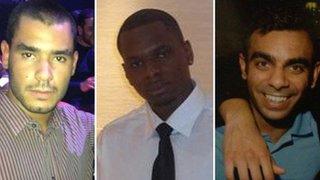 Three British men have been found guilty of drug offences in Dubai and jailed for four years each.
Londoners Suneet Jeerh, Grant Cameron and Karl Williams, were found guilty of possessing synthetic cannabis. Supply charges, which can carry longer terms, were dropped.
The men, who denied all the offences, will be deported after their sentences.
They claim they were tortured by police following their arrest while on holiday in the Gulf state in July.
Cameron's mother Tracy said they were "really happy" with the outcome, as they had expected harsher sentences.
She says the men have always protested their innocence and the trial should never have gone ahead because they were tortured.
Mrs Cameron says the men will appeal against the sentences but the families were hoping they would receive a pardon from the United Arab Emirates (UAE) President Sheikh Khalifa bin Zayed.
"I am very positive that my son will be home with his family by the end of the year at the very latest," she told the BBC.
UK Prime Minister David Cameron is to raise the case with the UAE president during his two-day state visit to Britain, which begins on Tuesday.
Torture concerns
The three men, dressed in white prison overalls, made a brief appearance at Dubai's criminal court.
Jeerh, 25, Cameron, 25, and Williams, 26, were arrested after police said they found a quantity of a drug known as "spice" in their car.
The men say they were subjected to torture by police, including electric shocks and beatings. Police in Dubai have denied any wrongdoing and say an internal investigation into the torture allegations found no evidence to support the claims.
Legal rights charity Reprieve has taken on their case. Investigator Kate Higham said the drug supply charges were dropped entirely.
"The boys all got four years for consumption. While we are pleased with this result we will continue to push for the men's release and return in light of the torture they have suffered," she said.
"David Cameron must push for this when UAE President Sheikh Khalifa arrives."
Mr Cameron is due to meet the president at No 10 on Wednesday.
In a letter to Reprieve, the prime minister wrote: "We continue to press for evidence for a full, impartial and independent investigation into the allegations. The absence of an independent medical examination remains a concern.
"During the state visit of His Highness Sheikh Khalifa bin Zayed there will be opportunities to raise a wide range of issues including concerns about this and other consular cases."
'Pretty terrifying'
The BBC's world affairs correspondent Richard Galpin says the fact the case is going to be raised is "pretty significant", especially as the Gulf state is a very important strategic partner.
He said the men's families were all relieved they had not been convicted of drug dealing, which carries a sentence of up to 15 years in prison.
It is claimed the torture took place in the desert, where the men were initially taken after their arrest, and subsequently in hotel rooms.
Ahead of the court appearance, Grant Cameron's mother, Tracy, said her son and his friends had been put through "a pretty terrifying ordeal".
"Grant was separated from his friends, driven around the desert, beaten, kicked, punched, tasered and a gun was held to his head and he was told he was going to die," she said.
She said later he was "laid out on the bed, his trousers were stripped down and electric shocks were administered to his testicles while he was blindfolded".
Suneet Jeerh's sister, Davena Kumar, also told the BBC her brother was given electric shock treatment.
Reprieve said it had seen notes from the Foreign Office that "documented the marks and scars".
It added that the men were forced to sign documents in Arabic - a language none of them understands - and the statements were used as evidence.
Williams and Cameron are both from Wanstead, in north-east London, while Jeerh is from Ilford, east London.