Dubai drugs trial: David Cameron 'concerned' over torture claims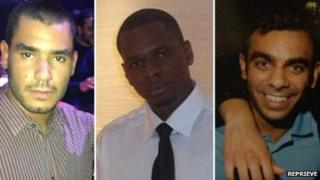 Prime Minister David Cameron has expressed concern about allegations that three Britons were tortured while in custody in Dubai.
A Dubai judge is to give a verdict on Monday in the trial of Londoners Suneet Jeerh, Grant Cameron and Karl Williams.
They are accused of drug offences, but all deny the charges.
Grant Cameron's mother Tracy said the three, who say they were given electric shocks, have been "treated appallingly".
Police in Dubai have denied any wrongdoing.
The three men, who are charged with possessing, taking and intending to distribute illegal drugs, were arrested on holiday in August after police said they found a quantity of synthetic cannabis known as "spice" in their car.
Legal rights charity Reprieve said the charges should have been dropped and the men - who went on trial in February - should be released because of the torture allegations.
Investigation call
In a letter to Reprieve, the prime minister has said he will use a state visit by the United Arab Emirates president this week to raise his concerns about the case.
Mr Cameron wrote: "The UK government takes all allegations of mistreatment very seriously.
"We continue to press for evidence for a full, impartial and independent investigation into the allegations. The absence of an independent medical examination remains a concern.
"During the state visit of His Highness Sheikh Khalifa bin Zayed Al Nahyan there will be opportunities to raise a wide range of issues including concerns about this and other consular cases.
"We continue to request these cases are fully and independently investigated."
Ms Cameron said her son and his friends were put through "a pretty terrifying ordeal" after they were arrested.
"They were taken back to their hotel room, they were beaten in their hotel room, it does appear they were separated from each other and each taken to a different room," she told the BBC.
"Karl was laid out on the bed, his trousers were stripped down and electric shocks were administered to his testicles while he was blindfolded.
"I believe all the boys had guns held to their head - they were told they were going to die.
"Grant sustained electric shocks to his torso and I believe Suneet had shocks administered to him to the back of his head and his back."
She said all the men were pressured into signing statements written in Arabic which they did not understand.
Ms Cameron also said she had been told by lawyers her son was likely to be found guilty of at least one of the charges and could be jailed for 15 years or longer.
Reprieve's Kate Higham said torture by Dubai police was "hugely common" and the charity believed the men's "extremely plausible" account.
However, Doctor Abdul-Kallek Abdulla, a professor of political science in the UAE, told BBC Radio Five Live there was no proof to support the torture claims and "absolutely no truth" to the allegations heard in the British media.
He said: "You could say whatever you want but I go by official statements. The UAE is not a country which practises these things."