HIV and hepatitis warning over illegal tattooists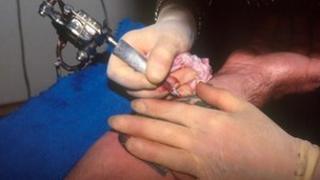 Illegal unlicensed tattoo parlours are putting customers at risk from HIV and hepatitis, council bosses in England and Wales have warned.
The Local Government Association (LGA) said such operators were more likely to use substandard equipment and conduct inadequate sterilisation techniques.
They were also less likely to check the person's age or medical history.
The LGA said unregulated tattooists were working in homes, garden sheds or pubs and clubs.
'Unscrupulous bid'
The organisation said people were being lured away from reputable establishments by cheap deals - but there was an increased danger of contracting serious skin disorders, hepatitis or HIV.
Mehboob Khan, chairman of the LGA's Safer and Stronger Communities Board, said: "Unlicensed tattooists and parlours continue to operate across the country in an unscrupulous bid to cash in on the growing popularity of body art.
"People looking for a cheap tattoo by using them run the real danger of picking up a serious infection such as hepatitis or HIV or permanent scarring from botched procedures that are often delivered by these dangerous imposters."
Mr Khan said people who took the risk could end up with a "disfigurement or life-changing health condition".
He added: "Anyone who is thinking of having a tattoo should do their research and use a registered tattooist.
'Unrelenting crackdown'
"We would also encourage anyone who has visited an unregistered tattooist to seek medical advice from their GP and report the parlour to their local authority.
"Councils and the police will continue their unrelenting crackdown on these illegal parlours to continue shutting them down and bringing the perpetrators to justice."
Tattoo artist Kevin Paul told the BBC that anyone with tattoo equipment should have register with their local council and follow health and safety guidelines.
He said: "Some of the stories we've had are really bad. Like this girl - she had something on her foot.
"She thought it was a professional person who'd done it. He went far too deep. It swelled up and went really sore.
"She went back to get their advice after a week. They told her that that was normal. That's not normal. Two weeks down the line, it got that bad she could hardly walk on it. She went to hospital. They told her that if she'd have left it any longer she'd have lost her foot."
The LGA said there were more than 1,500 licensed tattoo parlours in the UK, with almost three in 10 people aged between 25 and 34 having at least one piece of the body art.
Unlicensed tattooists face a prison sentence of up to two years and unlimited fines, and local authorities can seize their equipment under the Health and Safety at Work Act.