Hyundai suicide bid car advert pulled after complaints
By Mark Sedgwick
BBC News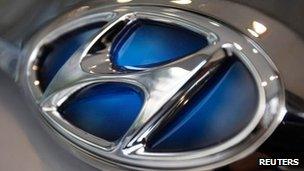 Carmaker Hyundai has apologised and pulled an online advert that depicted a man attempting to kill himself with exhaust fumes in its new model.
Hyundai said it "sincerely apologises for the offensive viral video".
The advert, highlighting the car's "100% water emissions", attracted complaints on social media sites.
Londoner Holly Brockwell, whose father killed himself inside a car in 1990, blogged about how she had felt "empty" and "sick" on seeing the advert.
"I shook so hard that I had to put down my drink before I spilt it. And then I started to cry."
The 27-year-old, of Streatham, south London, recalled how it had brought back memories of her father Geoff's death when she was five years old.
"I remembered looking out of the window to see the police and ambulance, wondering what was happening," she wrote.
"I remember mum sitting me down to explain that daddy had gone to sleep and would not be waking up, and no, he wouldn't be able to take me to my friend's birthday party next week.
"No, he couldn't come back from heaven just for that day, but he would like to if he could. I remember finding out that he had died holding my sister's soft toy rabbit in his lap."
She added: "Surprisingly, when I reached the conclusion of your video, where we see that the man has in fact not died thanks to Hyundai's clean emissions, I did not stop crying.
"I did not suddenly feel that my tears were justified by your amusing message. I just felt empty. And sick. And I wanted my dad."
In a statement, Hyundai, which has its headquarters in South Korea, said it "deeply and sincerely apologises for the offensive viral video".
It added: "The video was created by an affiliate advertising agency, Innocean Europe, without Hyundai's request or approval.
"It runs counter to our values as a company and as members of the community. We are very sorry for any offense or distress the video caused.
"More to the point, Hyundai apologises to those who have been personally impacted by tragedy. Hyundai Motor UK has had no involvement with the video."
In its statement, Innocean Europe said it deeply regretted any offence or distress the video had caused.
It said: "The intention of the viral video was to employ hyperbole to dramatise a product advantage, culminating in a positive outcome.
"Clearly, we were mistaken, and we sincerely apologise. As a company that espouses strong family values, Innocean would never intentionally set out to cause distress.
"The video has been removed from all channels. It will not appear again."
Ms Brockwell, who is a freelance advertising creative, told BBC News she was yet to hear directly from either Hyundai or Innocean.
She said her job involved coming up with ideas for adverts, but "it would never cross my mind to go to these depths.
"I want them to see what it does to people, what they have done to me," she said.
Related Internet Links
The BBC is not responsible for the content of external sites.