Met Police's Sapphire rape units face shake-up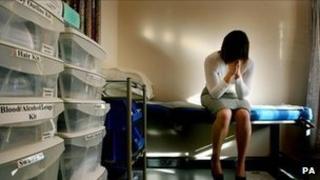 The Metropolitan Police teams that specialise in rape and sex assault cases are to undergo a major reorganisation after a series of failed investigations, the BBC has learned.
The changes will bring investigators of rape, sexual assault and child abuse together in a single department, comprising 1,400 staff.
At least 100 extra officers will be recruited, it is understood.
The Met is also considering changing the name of the Sapphire rape teams.
BBC home affairs correspondent Danny Shaw says that although the Sapphire teams include many experienced and highly skilled detectives, the name has become associated with a series of failed investigations.
'Damaging' report
The Independent Police Complaints Commission (IPCC) has conducted nine inquiries into the force's handling of sexual assaults.
In February, it published a report that found a Sapphire unit, in Southwark, south-east London, had "encouraged" victims to withdraw rape allegations to boost detection rates in 2008-09.
From this summer, the management of Sapphire teams will be merged with that of the child abuse investigation unit to create a single command, with at least 100 more officers, and a new focus on tackling sexual exploitation cases.
The current head of Sapphire, Det Ch Supt Mick Duthie, said these changes were part of the wider restructuring of the Met Police.
He told the BBC's Today programme that the "very damaging" IPCC report related to failings dating back to 2008-09 and much had changed within the department since.
"I want to reassure the public we will maintain specialist investigators to deal with rape, highly trained dedicated staff and part of the restructuring is to enhance the service we give to victims. There is an absolute steadfast determination that this command will work."
He added there would be a new head of the command and more officers brought in to tackle sexual exploitation.
Talks were under way to decide on the best name for the command, he said.
Of the name, Det Ch Supt Keith Niven, who is to head the command, said he wanted a title that "says and explains what it does".
Debaleena Dasgupta, a lawyer who specialises in representing rape victims, said renaming the unit was a "complete rebranding exercise" that changed nothing at all.
She called for "proper guidelines" to be enforced, proper supervision of staff and accountability when things went wrong.
And Harriet Harman, the MP for Camberwell and Peckham, told BBC London she could no longer call on women to report rapes to the Sapphire unit.
Speaking to presenter Eddie Nestor following news of the re-organisation, the deputy Labour leader said: "I do not have confidence in whatever they call it.
"I can't say to women in my constituency, 'have confidence, report your cases', unless I know there's going to be a proper check-up because we've heard it all before."
'Overstretched'
The IPCC report focused on the case of a woman who dropped a rape claim against a man who went on to murder his two children.
This had sparked a wider investigation into the work of the Southwark unit between July 2008 and September 2009.
Jean Say, 62, a retired concierge, killed his son and daughter two years ago and was jailed for a minimum of 30 years.
The report said the rape allegation against Say had been dismissed by a detective sergeant based at Southwark, who said the circumstances did not constitute rape because the woman had "consented".
The watchdog said Southwark Sapphire unit's approach of "failing to believe victims" was "wholly inappropriate". It also said it was "underperforming and overstretched".
The watchdog has carried out five previous inquiries into Southwark Sapphire command.
Meanwhile, Det Con Ryan Coleman-Farrow, who was based in Southwark, was jailed for 16 months last October for failing to investigate rape and sexual assault claims and falsifying police records.
A second officer, based in Islington, north London, is still under criminal investigation.
In total, 19 officers from across London have been disciplined, including three who have been sacked.