Boris Johnson's brother Jo given Downing Street policy role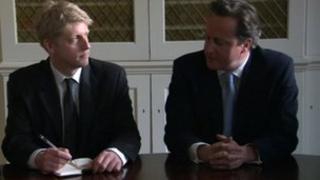 The prime minister has appointed Jo Johnson - the younger brother of Mayor of London Boris Johnson - as the head of his policy unit.
Jo Johnson was elected as MP for Orpington, in London, in May 2010.
Mr Cameron, who is also setting up a new advisory board on policy, has been accused of failing to listen to his MPs and Tory activists in the past.
Boris Johnson said it was "great there is finally a Johnson in Number 10" and said his brother would be "superb".
BBC political correspondent Vicki Young said the appointment showed Mr Cameron was making a clear attempt to improve communication with his party.
It followed bruising battles over gay marriage, Europe, planning laws and Lords reform, she added.
'Thatcher-style'
She said the appointment of Jo Johnson, 41, who like his brother and the prime minister was educated at Eton and Oxford, was being seen as an attempt to give Conservative policy-making a sharper edge.
Mr Johnson, a former Financial Times journalist who was a contemporary at Oxford of Chancellor George Osborne, will also be appointed as a junior minister at the Cabinet Office, where Oliver Letwin leads on government policy.
Older brother Boris Johnson said: "Great there is finally a Johnson in Number 10. Jo will be superb. Now for Rachel (his sister) and Leo (his second brother)!"
Mr Cameron's new Conservative parliamentary advisory board on policy will balance the experience of MPs such as Peter Lilley - who served in Margaret Thatcher's cabinet - with prominent roles for several younger backbenchers.
Some of them have led parliamentary rebellions against the government, but they're also regarded as among the most talented politicians on the Conservative benches.
Their task will be to come up with new ideas and give the party a clearer sense of direction in the run-up to the next general election.
They include Mr Cameron's former press secretary, George Eustice, former schools minister Nick Gibb and MP for Wolverhampton South West Paul Uppal.
Jesse Norman, who was a leading critic of House of Lords reform, will also sit on the panel, as will Battersea MP Jane Ellison and Rossendale and Darwen MP Jake Berry.
A Conservative source told the Telegraph: "These appointments clearly represent a more political policy operation and a more Thatcher-style Downing Street Policy Unit.
"The advisory board will strengthen the connective tissue between Downing Street and the Parliamentary party, and Jo Johnson will be a great asset in helping the prime minister drive Conservative policy priorities throughout government."
For Labour, Michael Dugher MP said: "The country needs new policies, not a new policy team. These appointments are all about shoring up this out of touch and weak Prime Minister... this looks like rearranging the deck chairs on the Titanic."