Kate holiday photos: Two people investigated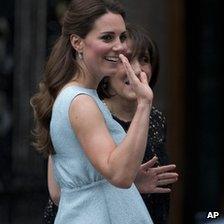 The head of the publisher of France's Closer magazine and a photographer are under formal investigation in France over the publication of pictures of a sunbathing Duchess of Cambridge.
Topless pictures of the duchess, taken during a private holiday in France, were published by Closer in September.
Local newspaper La Provence used pictures of her in her swimwear.
Mondadori boss Ernesto Mauri and La Provence's Valerie Suau are under investigation for invasion of privacy.
Ms Suau has admitted capturing images of the duchess in her swimwear but denies having taken the topless photos.
The Duke and Duchess of Cambridge launched legal proceedings in France following the publication of the pictures last autumn.
Shortly afterwards, a Paris court banned Closer from re-publishing the images and ordered the gossip magazine to hand over the originals within 24 hours, or face a daily fine of 10,000 euros (£8,000).
In their ruling, magistrates described the pictures as "particularly intrusive".
The images were published in other European magazines as the ruling did not cover publications outside France, but no British newspapers printed them.
Prince William and Catherine also filed a separate criminal complaint under France's strict privacy laws.
The BBC's Christian Fraser said that when they started legal proceedings back in October, there was no name on their criminal complaint.
The identity of the photographer who took the topless photos was withheld by magazine Closer - in French law the protection of media sources is sacrosanct.
But the duke and duchess had kept up the pressure, our correspondent added.
Six months on, their campaign appeared to have taken a significant step forward with the prosecutor putting the two people under formal investigation for breach of privacy, he said.
As the royal couple prepare for the birth of their first child, this was a timely reminder they were not prepared to compromise on their privacy, he added.
Mr Mauri, head of Mondadori - an Italian publisher owned by the country's former Prime Minister, Silvio Berlusconi - is under investigation for allowing the topless pictures to be published on 14 September.
La Provence also published some images from the couple's holiday.
It is unclear when they were formally placed under investigation but the AFP news agency reported that it was earlier this month.
Closer magazine has argued the photos were taken from a public road and were not in the least offensive.
The pictures were taken when the royals were in southern France, at a chateau owned by Viscount Linley, the Queen's nephew.
The Italian publishing group said: "Mondadori is not aware of anything new with respect to what is already known about the issue."
La Provence said Ms Suau had the paper's "support in the legal challenge she is facing today".