Milly Dowler police 'amnesia' over phone hack claims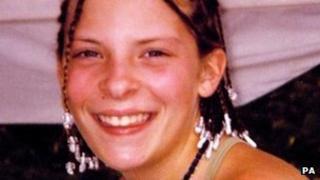 Surrey Police's handling of the Milly Dowler murder inquiry has been criticised for failing to check claims the schoolgirl's voicemail was hacked.
A watchdog has accused senior officers of having "collective amnesia" when questioned about why they did not investigate.
The Independent Police Complaints Commission did not discover who decided not to pursue the claims.
Milly, 13, disappeared in March 2002, as she walked home in Surrey.
Surrey Police acknowledged it should have revisited the hacking allegations.
The findings follow an investigation into the conduct of two senior officers, Deputy Chief Constable Craig Denholm and Det Supt Maria Woodall.
'Surprise and dismay'
The IPCC concluded that neither were guilty of misconduct. Surrey Police said it had taken "management action and issued words of advice" to both.
IPCC deputy chair Deborah Glass said: "Phone hacking was a crime and this should have been acted upon, if not in 2002, then later, once the News of the World's widespread use of phone hacking became a matter of public knowledge and concern.
"Our investigation has heard from officers and former officers from Surrey Police who have expressed surprise and dismay that it wasn't investigated.
"We have not been able to uncover any evidence, in documentation or witness statements, of why and by whom that decision was made: former senior officers, in particular, appear to have been afflicted by a form of collective amnesia in relation to the events of 2002.
"This is perhaps not surprising, given the events of 2011 and the public outcry that the hacking of Milly Dowler's phone produced."
The lawyer who represents the Dowlers, Mark Lewis said "the family are pleased that the IPCC have investigated this issue".
He added: "This was not the finest hour of the Surrey Police force."
Levi Bellfield was given a whole-life jail term after being found guilty of abducting and killing Milly as she walked home in Walton-on-Thames, Surrey, in March 2002.
The now defunct News of the World admitted hacking the 13-year-old's mobile phone but it remains unknown whether two missing messages were deleted deliberately, as previously suggested, or were removed from her message box automatically.
The revelation that Milly Dowler's voicemail had been hacked led to public outrage over British media ethics, and led to News International closing the Sunday tabloid in 2011.
Prime Minister David Cameron announced the setting up of Lord Justice Leveson's inquiry into press standards and practices as a consequence of the phone-hacking scandal.