UK Peace Index highlights rate of fall in violent crime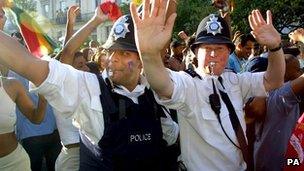 Rates of murder and violent crime have fallen more rapidly in the UK in the past decade than many other countries in Western Europe, researchers say.
The UK Peace Index, from the Institute for Economics and Peace, found UK homicides per 100,000 people had fallen from 1.99 in 2003, to one in 2012.
The UK was more peaceful overall, it said, with the reasons for it varied.
The index found Broadland, Norfolk, to be the most peaceful local council area but Lewisham, London, to be the least.
Some 267,291 people required care - 40,706 fewer than in 2011 - according to a sample of 54 hospital units, its report said.
BBC home editor Mark Easton called it the "riddle of peacefulness" and said the fall in violence was "perhaps a symptom of a new morality".
"We are less tolerant of violence in all forms," our correspondent added.
For its inaugural index, the Institute for Economics and Peace (IEP), which defined peace as "the absence of violence or fear of violence", used Home Office data on crime, such as public disorder offences and weapons crime, and police officer numbers.
It found the violent crime rate was down by about one quarter - from 1,255 per 100,000 people in 2003, to 933 in 2012. This was a more rapid fall than the average decrease across western Europe for that period - although not more rapid than all other European countries, as was stated in earlier reports on the BBC News website.
These reductions came despite a 6% drop in the number of police officers per 100,000 people, it said.
In Broadland - an area which includes three market towns, Acle, Aylsham and Reepham as well as part of the Norfolk Broads, and which has a population of about 125,000 people - eight violent crimes were recorded for 2012.
Its average overall crime rate for the decade was 323 per 100,000 people - about a third of the national average.
The five most peaceful local authority areas, which also included Three Rivers, in Hertfordshire, South Cambridgeshire, East Dorset and Maldon, in Essex, recorded a combined total of 24 homicides over the decade.
Broadland resident Paul Lancaster, who lives in Rackheath, told the BBC it was a "rural, very well-to-do area". "I feel very safe in Broadland," he said.
Lewisham, meanwhile, had a homicide rate of 2.5 in 2012 - two-and-a-half times the national average.
The year 2011 was the borough's worst in the decade for the actual number of homicides - defined by researchers as murder, manslaughter and infanticide - with 11.
All five of the least peaceful local authority areas were London boroughs - the others being Lambeth, Hackney, Newham and Tower Hamlets.
Mark Easton said that while Lewisham, an area scarred by gang violence, was found to be the least peaceful area, overall the capital was markedly more peaceful than it was 10 years ago, with some of the biggest drops in some types of violent crime.
The capital's rate of homicides was far lower than in New York, Amsterdam, Brussels and Prague, he added.
Of the UK's "urban areas", the index found Glasgow, with a murder rate of double the national average, to be the least peaceful and Cardiff and Swansea, with 60% less violent crime than Glasgow, the most peaceful.
Sheffield, Nottingham and Leeds came second, third and fourth respectively behind Cardiff in the urban areas peacefulness ranking.
The IEP's report said that 80% of the 343 local authority areas it had evaluated had seen at least a 10% improvement in their peace over the past decade.
"This is the fastest decline in violence of any country in Europe," it said.
"Cross-checking Home Office and Eurostat data against a number of metrics, such as hospital admissions, the UKPI shows that this dramatic fall is not a blip in police reporting - the UK really is becoming more peaceful.
"Reasons for this fall in violence are varied, however one of the more likely reasons, often overlooked, is the substantial improvement in police practices particularly related to the adoption of advanced technologies.
"Other factors which have had an impact in reducing violence include an aging population, decreasing alcohol consumption and, finally, rising real wages, supported by the introduction of the minimum wage."
Extreme poverty is the factor most closely associated with violence
The number of police officers had no correlation to levels of peace
Fear of violence is greater than the reality: 17% of Britons think they will be a victim of violent crime, but fewer than 4% will experience violent crime
The UK homicide rate is now roughly equivalent to the Western European average and at its lowest level since 1978
But UK violent crime rate is significantly higher than the European average
The research follows the IEP's US Peace Index published last year.
IEP chairman Steve Killelea said the increased level of peace in the UK "cannot be narrowed down to any single factor".
But he added: "The findings of the UK Peace Index show that poverty and economic opportunity are significantly associated with peace, as supported by other international studies, including the US Peace Index.
"This suggests greater emphasis needs to be placed on programmes that tackle poverty and related issues, such as access to education and economic opportunity."
Sir Ian Blair, former commissioner of the Met Police, said that, given the downward trend was across the developing world, he believed the fall was due to the "change in the way society views and abhors violence".
"We are a more violence-adverse society," he said.
"When I started as a young officer the Friday night pub fight was an extraordinarily common phenomenon. Everybody swung a chair, got a few black eyes and went home satisfied.
"That is not happening in the same way any more. Domestic violence is being targeted again and again. Football hooliganism, with the exception of the occasional incident, is dying away.
"We have the lowest level of non-accidental child deaths in western Europe, except for Denmark."
However, Prof Marian Fitzgerald, visiting professor of criminology at the University of Kent, voiced caution, saying she believed the report was based on "two fundamental misconceptions".
"First of all it keeps saying 'isn't it amazing that despite the recession violence has gone down'. Actually, any serous criminologist knows that violence goes down in a recession because most violence is relatively low-level violence and most of it is associated with the late-night economy," she said.
"So when people don't have money to go out, get tanked up, start having fights, violence goes down.
"The other flaw in this is... they said that they took as their starting point in this as 2003 because the rules on how you counted crime changed at that point.
"What they don't seem to have understood is that those changes meant there was an artificial spike in crime in 2003."
Related Internet Links
The BBC is not responsible for the content of external sites.