Lord Stirrup made Knight of the Garter by the Queen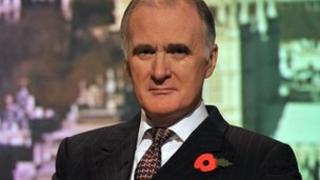 The former head of the UK's armed forces has been made a Knight of the Garter by the Queen, Buckingham Palace has announced.
Air Chief Marshal Lord Stirrup, 63, was appointed Knight Companion of the Most Noble Order of the Garter.
He fills one of three vacancies created by the deaths of Baroness Thatcher, the Duke of Grafton and Viscount Ridley.
Lord Stirrup was chief of the defence staff when British forces were committed in both Iraq and Afghanistan.
Garter Day
Lord Stirrup, who was born Graham Eric Stirrup, started in that role in April 2006.
Knights of the Garter are appointed by the Queen without her having to consult the government.
The announcements are made to coincide with St George's Day and official ceremonies take place on Garter Day, which is in June.
Knights of the Garter are awarded to those who have held public office, contributed to national life or been employed to work for the monarch.
Lord Stirrup was educated at Merchant Taylors' School in Northwood, Hertfordshire, before receiving his commission from RAF College Cranwell, in Lincolnshire, in July 1970.
After being promoted to squadron leader in January 1980, he was awarded an Air Force Cross in 1983 for his role in landing a severely damaged aircraft while instructing a trainee.
He was made wing commander in July 1984 and was station commander of RAF Marham, in Norfolk, during the Gulf War in 1991.
Edward III
In August 2003 he was promoted to air chief marshal and appointed chief of the air staff after serving as UK national contingent commander at the start of the war in Afghanistan in 2001.
He sits as a crossbench peer in the House of Lords where he has argued the case for Afghan interpreters and their families to be allowed to settle in Britain.
Married with with one son, Lord Stirrup is said to enjoy golf, music, theatre and history.
There are a maximum of 24 Garter Knights, who currently include Prince William, who became the 1,000th in total in 2008, and former Prime Minister Sir John Major.
The Order of the Garter was founded by Edward III in 1348.