Cold spring: What does this mean for flowers?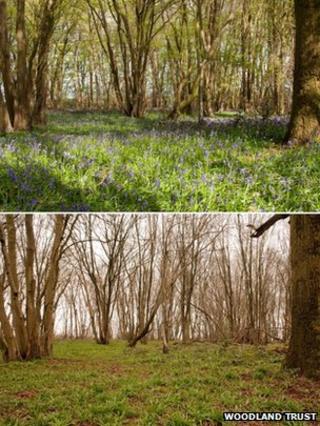 After a gruelling cold winter, a few days of April sunshine has left many of us asking: "Has spring finally sprung?".
But look around you, and all the elements usually associated with the season appear to be missing. Fancy a trip to bluebell wood? You'd better postpone. Can't wait for the first of this year's home-grown asparagus? You'll have to wait.
Because the chill - and according to forecasters April could well be one of the coldest since 1917 - means plants, crops and trees normally expected to be flourishing by now are still languishing.
We've heard of the chaos the freezing temperatures caused to schools, roads and households - and now, it seems, bluebells too. But is this actually a bad thing?
Well no, says the Royal Horticultural Society's (RHS) chief horticultural adviser Guy Barter, who is predicting a spectacular, and prolonged, flowering season when the plants finally do bloom.
And right now, the society's gardens are still enjoying daffodils, crocuses and tulips and others which would normally have died back by now.
At RHS Rosemoor in Devon there are still "the most amazing hellebores", he says.
This late winter flower would normally have gone over now but the weather has "kept them looking fantastic".
Meanwhile, some hardy spring flowers such as primulas and anemones have "squeezed" into flower, meaning gardens are seeing the unusual combination of late winter flowers and spring flowers side by side.
At the society's Wisley gardens in Surrey, they would normally expect to see apple blossom on 26 April. Whether the trees flower at the same time is a "hearts and mouths situation", says Mr Barter. He would prefer later because the British spring is so changeable.
"Apples, if they come into flower too early are quite likely to get frosted," he says.
"The cold weather has been better in many ways, because when they do finally come into flower, it will be a sight to see."
And it is not just spring flowers which have been affected. The cold start to the year will have a knock-on effect throughout the summer, with soft fruits, such as strawberries and blackcurrants, and first salads and tomatoes ripening later.
The flowering season will be compressed, he says. "I think we'll see a magnificent display".
Sandra Bell is the phenologist at the Royal Botanic Gardens, Kew. It's her job to study when plants bloom at the world-famous garden.
And like Mr Barter, she's thankful for the cold winter.
"We have to place this in context really," she says.
'Bit of a relief'
"Over the last 30 years there's been a trend towards a warming in the climate and as a result, we've seen changes in the plants around us.
"Many of the traditional English plants and trees have tended to come into life early because it's been so mild. Then during this artificially-long growing season, they inevitably suffer a period of drought.
"Because of that, a wetter, longer winter is actually a bit of a relief. It takes the stress off the plants. All the water we had last year was very welcome and the shorter growing season is better for them.
"These plants have evolved over hundreds of thousands of years to need a rest and a longer growing season means they don't get enough. It's been hard for them.
"Another area where there's a big plus is the early daffodils which have lasted much, much longer. Our earliest opened on 7 January and is only just really going ragged now."
And we could also be reaping the benefits of the inclement weather on our plate.
St George's Day (23 April) is traditionally the start of the asparagus season - but not this year.
Chris Kitchen, of Lincolnshire-based Kitchen Garden Produce, says crops have been delayed by a week to 10 days, but slower growth could even mean tastier asparagus.
Asparagus requires the soil temperature to rise above 10C for it to grow, and it is only now we are are "feeling" 11C to 12C, "which is a very nice thing to happen," he says.
Now there are "buds" - which will become asparagus spears - appearing.
"The knock-on effect could be, if we don't have a setback, provided we don't have any frost, we could have very good quality spear growth. We could have, for seven to eight weeks, a very good season."
So will we have frost? What next for the weather?
Fingers crossed, says Dave Britton at the Met Office.
The first half of April has been 2.5C cooler than usual - so far the average temperature is 4.6C - although this is more likely to be around 5.4C by the end of the month.
"But as we head through the rest of the week we will see normal spring weather. A mix of fine, sunny, weather and showers," he says.
However, night-time temperatures will be cool, with the end of the week falling a low as 2C or 3C.
And yes, in the north and west of the UK - but only in sheltered, rural areas - there is some "potential" for some "grass frost".