London Marathon: Extra police presence to 'reassure'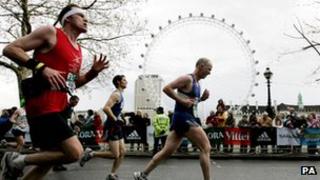 The number of police officers on duty at Sunday's London Marathon is being increased by several hundred for "reassurance", Scotland Yard has said.
The Metropolitan Police reviewed security plans after fatal bomb attacks at the Boston Marathon on Monday.
It said it can see "no link whatsoever" between the twin blasts in Boston and the London event, but officer numbers will be up 40% on last year's event.
More than 35,000 runners are due to take part in the race.
The London Marathon route, which is lined by hundreds of thousands of spectators every year, starts in Blackheath and finishes near Buckingham Palace, passing some of the capital's most recognisable landmarks including Tower Bridge, Canary Wharf and Big Ben.
High visibility patrols
Ch Supt Julia Pendry, who has headed the marathon security operation for five years, said: "I have increased the number of officers for reassurance patrols by several hundred.
"It's about making sure that people who come to London on Sunday feel safe when they are in the city.
"We've got more search dogs out, we have got more on high-visibility patrols."
She added: "We're in touch with the Americans all the time.... There is no link between the Boston Marathon and the London Marathon and there is no change to the threat level at this time to London."
She urged marathon spectators to make sure that they keep their belongings with them to avoid sparking security alerts.
London Marathon organisers have said they will hold a 30-second silence at the start as a mark of respect for the Boston victims. Runners will also be given a black ribbon to wear.
US police are hunting a suspect in the Boston Marathon bombing, after another suspect was killed in a car chase and shoot-out.