Abu Qatada: Home Office seeks Supreme Court appeal permission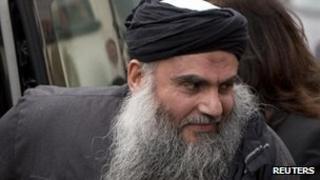 The government has asked for permission to appeal to the Supreme Court against a ruling preventing the deportation of radical Islamic cleric Abu Qatada.
Court of Appeal judges last month upheld a ruling that he could face an unfair trial if he were deported to Jordan to face terror charges.
The move is the latest in a lengthy government battle to have him deported.
"The government remains committed to deporting this dangerous man," a Home Office spokesman said.
"We continue to work with the Jordanians to address the outstanding legal issues preventing deportation." he added.
In April 1999, Abu Qatada was convicted in his absence on terror charges in Jordan and sentenced to life imprisonment, and it is on these charges that he faces a retrial.
In their judgement last month, Court of Appeal judges said the Special Immigration Appeals Commission was entitled to think there was a risk that "impugned statements" obtained by the torture of others would be admitted in evidence at his retrial.
'Dangerous person'
This meant there was "a real risk of a flagrant denial of justice", the judges said.
The judges said the court accepted that Qatada "is regarded as a very dangerous person", but that was not "a relevant consideration" under human rights laws.
The UK government has repeatedly argued that a block on his deportation should be lifted, saying a fair trial in Jordan was possible.
Abu Qatada was first arrested in October 2002 in south London and detained in Belmarsh high-security prison. He was re-arrested and released on bail number of times over the years that followed.
In November 2012, he was released on bail when the courts blocked the home secretary's attempt to deport him to Jordan, but was arrested last month for allegedly breaching the strict bail conditions.
He has never been charged with an offence in the UK.