Cruelty to badgers 'almost doubles' ahead of cull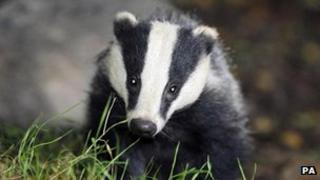 The number of people prosecuted for cruelty to badgers has almost doubled in five years, new figures suggest.
The data, obtained by Labour MP Diane Abbott, showed 58 people were prosecuted in magistrates' courts under the Protection of Badgers Act in 2011 - up from 30 in 2007.
Ms Abbott said pro-cull campaigning had given a "green light" to those carrying out crimes such as badger baiting.
The government said unlicensed killing of badgers was "unacceptable".
Two trial badger culls, aimed at tackling the spread of tuberculosis (TB) in cattle, are set to go ahead later this year in Gloucestershire and Somerset.
They had been postponed late in 2012 amid fears they could not be carried out effectively, but were approved in February after final licence conditions were met. A reserve pilot will also be prepared in Dorset.
Cruel and barbaric
The figures, revealed by Ms Abbott in a parliamentary question, showed that prosecutions for crimes including badger baiting have risen each year since 2007 - with only a minor dip to 48 in 2010 from 50 in 2009.
Speaking in Parliament, Ms Abbott said the rise was "alarming", stressing she believed "this kind of cruelty is barbaric".
"We've got to send the message out that this kind of thing is wrong. The laws are clear so we need to talk about why these incidents are increasing," she said.
The Labour MP added she was "concerned that there are gangs of people, sometimes with dogs, who think this is a macho thing to do".
"The problem is that some of campaigning on badger culling has given a green light to this kind attitude to our wildlife."
Labour has opposed a badger cull, arguing it will cost more money than it saves, put strain on the police and could even spread TB as badgers flee to different parts of the country.
Responding to the figures, a spokesman for the Department for Environment, Food and Rural Affairs said: "Any killing of badgers without a licence is illegal and unacceptable.
"If anyone has any evidence of that occurring, they are strongly encouraged to report this to local wildlife crime police officers to deal with."
The government has previously said the cull of badgers is necessary as part of a "science-led" programme to tackle TB - which has been devastating to farmers.