Restrictions on terror suspect student relaxed by court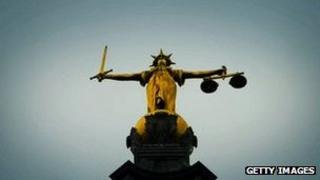 Restrictions on a terror suspect who is studying at a London university should be relaxed, the High Court has ruled.
Mr Justice Wilkie said restrictions on who the 24-year-old, named only as CF, could meet were having a "chilling effect" on his life as a student.
A judge in July said his involvement in terrorism was "real and substantial".
The Home Office said public safety was its "top priority" and welcomed the court's decision to dismiss his appeal against four other restrictions on him.
Lawyers for the Home Secretary argued the restrictions were necessary because CF posed "a risk to national security".
On Friday, the court heard that CF, from north London - who is a British citizen of Somali descent - began a full-time course at a mainstream London university in September.
His identity is protected by an anonymity order - so university staff and students do not know of his terrorism connections.
'Embarrassment and isolation'
CF had previously been required to live in Norwich, after being placed under a control order in May 2011. Control orders allowed authorities to force terror suspects to move away from their homes and close associates.
But after the Home Office replaced control orders with Terrorism Prevention and Investigation Measures (T-Pims) - which do not allow such restrictions - the home secretary issued a notice allowing CF to move back to London.
Under the terms of T-Pims, there are curbs on who CF can have contact with.
Speaking at London's High Court on Friday, Mr Justice Wilkie said the restrictions "must impose a chilling effect on CF's participation in the life of a student on this course, without any apparent beneficial effect on national security".
The judge said he was "inviting CF and the secretary of state" to discuss how measures could be formulated to allow him to meet other students on the university campus "for social purposes", provided those meetings were ancillary to attending lectures or seminars, or working in the university library.
He added it would "would obviate the sense of embarrassment and isolation which, I accept, the present requirements inevitably give rise to", without affecting measures necessary to safeguard national security.
Appeals against other aspects of the T-Pim were all rejected by the judge.
Mr Justice Wilkie said his suggestions should be used just as a guide for future discussions, and that a further court hearing might be necessary if an agreement could not be reached.
Lawyers for the home secretary said any relaxation would increase the risk of CF engaging in activities related to terrorism and meeting "extremist associates."
CF was acquitted in 2009 after being prosecuted in 2008 for attempting to travel to Afghanistan to fight Jihad and engage in suicide operations.
While on trial, he absconded to Somalia to attend a terrorist training camp and became involved in fighting alongside the al-Qaeda-linked Islamist group al-Shabab.
He was arrested by authorities in neighbouring Somaliland and returned to the UK in 2011.
He was placed under his first control order in May of the same year, having served a jail sentence for absconding while on bail.