UK deploying 5,250 personnel for Exercise Joint Warrior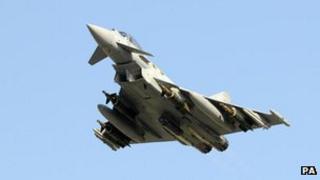 More than 5,000 UK personnel are to take part in the largest military exercise in Europe this year, the MoD has said.
Exercise Joint Warrior will test their ability to work together with the forces of nine other countries.
It will take place across Scotland from 15 to 29 April and will involve 5,250 UK military personnel.
Defence Secretary Philip Hammond said the exercise will ensure the forces are prepared "to meet any challenge".
"They give us the chance to test the way the different services and different nations work together, something that is vital in a multilateral world," he added.
The exercise will involve 13,000 military personnel in total, including forces from Sweden, Germany, Brazil and the US.
There will be an airborne assault and amphibious landings as well as training in counter-insurgency, counter-piracy and interstate war.
49 ships from various navies as well as up to 40 aircraft will be involved, including RAF Tornados and Typhoons.
The Royal Marine Commandos will make a landing at Barry Buddon training camp in Angus, near Dundee.
Further activities will take place near Stranraer, Dumfries and Galloway, where all nearby residents have been informed and the Ministry of Defence (MoD) expects it will cause "no real disruption".
Live ammunition will be used in certain exercises, on cleared ranges where it poses no risk.
The MoD hopes the exercise will improve the UK's joint capabilities with its allies, an asset it considers important in modern warfare and security.
The exercise is being organised by the Joint Tactical Exercise Planning Staff (JTEPS) involving Royal Navy and RAF personnel.