'No plans to withdraw' UK diplomats from North Korea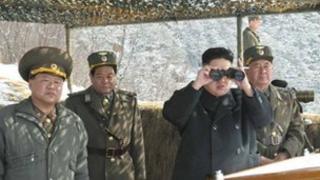 The UK has said it has "no immediate plans to withdraw" its diplomats from North Korea after its government warned their safety could not be guaranteed in the event of conflict.
North Korea earlier asked foreign consulates in Pyongyang to consider evacuating employees.
The Foreign Office said it was discussing its next moves with international partners.
It comes amid escalating tensions on the Korean peninsula.
On Thursday, David Cameron said he was "very concerned" about North Korea.
The UK prime minister cited the nuclear threat posed by the regime led by Kim Jong-un as one of the reasons he was committed to maintaining a round-the-clock submarine-based nuclear missile system.
'Capital is calm'
A Foreign Office spokesman said North Korea had informed a number of embassies of foreign countries and representatives of international organisations that they would be unable to guarantee their safety the event of conflict.
They had asked them to respond by 10 April on what support the embassy would need in the event of any evacuation.
He said: "We are consulting international partners about these developments. No decisions have been taken, and we have no immediate plans to withdraw our embassy."
The statement added: "In recent weeks, the North Korean government has raised tensions on the Korean peninsula and the wider region through a series of public statements and other provocations.
"We condemn this behaviour and urge the North Korean government to work constructively with the international community, including over the presence of foreign embassies."
BBC world affairs correspondent Mike Wooldridge says although the Foreign Office has not revealed how many staff work in the British embassy, it is believed to be fewer than 20.
The Foreign Office said its next move included the possibility of amending travel advice.
But it warned North Korea that it had obligations under the international Vienna convention to protect diplomatic missions and claimed the move was an example of the "continuing rhetoric" against the United States.
Its travel advice currently says North Korea "has made a number of statements which have increased tensions on the Korean Peninsula".
It adds: "These statements follow a satellite launch in December 2012 and suspected nuclear test this February. The FCO assess that there there is currently no immediate increased risk or danger to those living in or travelling to the country as a result of these statements."
Ramped up rhetoric
Shadow foreign secretary Douglas Alexander said the government had his party's support in how it has responded to the situation.
"In the days ahead it will need to continue to monitor the situation closely with regard to the safety of British embassy staff and their families based in North Korea and British citizens in the region," he said.
"The US government is rightly working to resolve this situation peacefully and all efforts must now be focused on bringing this stand-off to an end."
Russia has also said it had no plans to evacuate. Its Foreign Minister Sergei Lavrov said Moscow was "deeply concerned about the escalation of tension, which for now is verbal".
"We want to understand the reasons behind this offer," he said. "We were interested in finding out whether this was a decision taken by the North Korean leadership to evacuate embassies, or just an offer."
Anecdotal reports from inside the North Korean capital, Pyongyang, say the mood there is calm, and many believe North Korea is deliberately trying to create a sense of crisis, says the BBC's Lucy Williamson in Seoul.
The North has a history of using bellicose rhetoric, but it has been ramped up over the past few weeks, with nuclear strikes and attacks on the US and South Korea threatened.
On Friday, the South deployed two warships with missile defence systems to its east and west coasts, a day after the North apparently moved a missile to its east coast.
North Korea has also announced a formal declaration of war on the South, and pledged to reopen a mothballed nuclear reactor in defiance of UN Security Council resolutions.