Petrol pump sales decrease over five years, says AA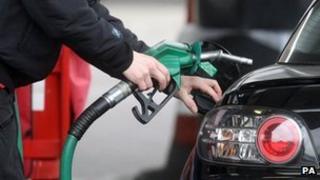 Forecourt sales of petrol have plunged by more than 20% in five years, the AA has said.
The motoring organisation said official government figures showed 17 billion litres were sold last year compared to 22 billion in 2007.
The AA said rising prices and greater use of smaller and diesel vehicles had contributed to the fall in consumption.
Combined with an increase in the sale of diesel, total vehicle fuel sales fell by 9% over the past five years.
The AA said the decrease was the equivalent of 35 days of business being lost since the start of the economic crisis.
Diesel sales increased from 14 billion litres in 2007 to 16 billion litres in 2012.
More recently, petrol sales decreased from 18.27 billion litres in 2011 to 17.42 billion litres last year.
'Huge toll'
Petrol Retailers Association chairman Brian Madderson said: "It's amazing to think that just four years ago, in spring 2009, petrol was £1 a litre. For £20 you could get 20 litres. Today when you spend £20 at the forecourt you get less than 15 litres.
"In 2000, 10% of new cars were diesel. Last year, over 50% of new cars were diesel and with that kind of change, and motorists cutting back on discretionary spending we do see right across the UK petrol sales in steep decline."
AA president Edmund King said: "Greater take-up of diesel cars and smaller petrol vehicles has contributed to this overall decline in UK fuel sales over the long term.
"However, soaring pump prices have taken a huge toll on petrol sales more recently - during the 10p-a-litre price surges last March and October, pump sales of petrol fell by up to 5%."
"The trouble is that, with global economic recovery, the stock market will predict greater oil and fuel demand and push up commodity values accordingly.
He added: "Drivers' fuel consumption and retail survivability are already precarious. What will happen when the speculators pump themselves up with bullish sentiment and send prices soaring yet again?"
The AA highlighted figures produced by the Department of Energy and Climate Change.