Operation Yewtree: Ex-BBC driver charged with sex offences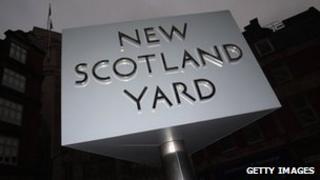 A 66-year-old man has been charged with past sex offences as part of a probe related to the Jimmy Savile inquiry, the Met Police have said.
David Smith is the first to be charged as part of Operation Yewtree, set up in the wake of the Savile scandal.
The Metropolitan Police said he was charged under the strand of the operation looking at complaints against people not connected to the late DJ.
A BBC correspondent said Mr Smith was a chauffeur who drove for the BBC.
However, it is not clear if he also drove for other employers, or that the offences he is charged with were in connection with work for the corporation.
Home affairs correspondent Tom Symonds quotes a source as saying David Smith was involved in driving guests for BBC programmes.
Mr Smith, of Lewisham, south-east London, has been charged with two counts of indecent assault on a boy under 14, two of gross indecency with a boy under 14 and one of a serious sexual offence against a boy under 16, police said.
The offences are alleged to have taken place during 1984.
They all relate to a single victim, the Crown Prosecution Service said.
Mr Smith, who was arrested on 10 December 2012 and released on bail pending further enquiries, will appear at Westminster Magistrates' Court on 8 May.
'Public interest'
Earlier, Alison Saunders, chief crown prosecutor for CPS London, said: "The CPS has carefully considered the evidence gathered as part of Operation Yewtree in relation to David Smith, who was employed as a driver at the time of the allegations.
"The CPS received a file of evidence on 21 December 2012. Further enquiries were necessary and the result of those enquiries was received by the CPS on 18 March.
"We have concluded, in accordance with the code for crown prosecutors, that there is sufficient evidence for a realistic prospect of conviction, and that it is in the public interest for David Smith to be charged with five offences."
So far, 11 people have been arrested as part of Operation Yewtree.
The operation was set up to look into allegations of sex abuse against BBC DJ and television presenter Savile, which were made following his death in October 2011.
A Met Police report said he had abused adults and children across the country over more than five decades. The NSPCC said Savile, who was 84 when he died, had been one of the most prolific sex offenders in its 129-year history.
Operation Yewtree has three strands:
One is looking specifically at the actions of Savile
The second strand concerns allegations against "Savile and others"
The third strand, termed "others", involves allegations from people who have come forward as a result of the publicity about Savile - but who have said they were sexually assaulted by people unconnected to him
Ten people have been arrested and one suspect was interviewed under caution.
High-profile names held in connection with the investigation are PR consultant Max Clifford, comedian Freddie Starr, DJ Dave Lee Travis and comedian Jim Davidson - who all deny any wrongdoing. Gary Glitter, 69, whose real name is Paul Gadd, who was also arrested, has not yet made a statement.
Last week police said a former BBC producer who was held as part of the operation would face no further charges.
Wilfred De'Ath was arrested last year in Cambridgeshire over an allegation of indecent assault on a girl in the 60s.
He was the first suspect held under Yewtree whom the CPS made a decision on.