Health and Safety Executive reveals 'scores of bogus bans'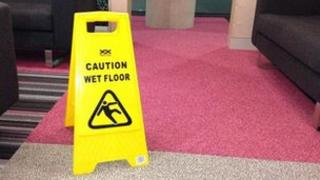 Bogus safety bans are being used by organisations to cover up bad service or to avoid being sued, the Health and Safety Executive (HSE) has said.
An expert panel set by the HSE to expose health and safety myths said such bans were being used to stop legitimate activities.
A ban on bubbles at a child's party and a restaurant refusing to serve burgers rare were among the cases found.
The HSE said such "nonsense" overshadowed genuine health and safety.
In its first annual report, the HSE's new panel revealed 150 cases of businesses and public bodies using non-existent rules to stop activities which were perfectly safe.
Among a number of what it described as "crackpot" cases, the panel reported bars refusing to fill pint glasses with handles and shredded paper being banned from a school fete.
'Nonsense'
In one case in Derbyshire, an investigation revealed a restaurant which had refused a 42-year-old diner a toothpick on the grounds of health and safety.
The diner told them that - as a grown-up - he was happy to take the risk of putting a toothpick in his mouth.
Elsewhere, a couple staying in a hotel were informed the chambermaid could not make up a cot bed because it was a health and safety hazard.
HSE Chair Judith Hackitt said officials on the panel never ceased to be "amazed by the cases we consider".
"Why on earth do people think that they can get away with banning pint glasses with handles, bubbles at a birthday party, or burgers served anything other than well done, claiming they are a health and safety hazard?" she said.
"The reality is that people hide behind health and safety when there are other reasons for what they're doing - fear of being sued perhaps, or bad customer service.
"It's time for them to own up to their real motives."
Ms Hackitt added: "The sad fact is that while all this nonsense is being spouted, it overshadows what health and safety is really about - ensuring people return home without injury from their day's work, every day."
Although the safety of food served in restaurants falls outside the HSE's remit, the case of an establishment which refused to serve a hamburger rare was cited by the HSE as one of a number of "crackpot cases".
The Food Standards Agency advises that, "as a precaution burgers should be cooked through to ensure any harmful bacteria that may be present are killed.
"The health risks from eating undercooked minced meat can be very serious."
The agency has clarified, however, that there are "no rules prohibiting the sale of raw or rare meat by restaurants or caterers."