Cold weather: Winners and losers from the long winter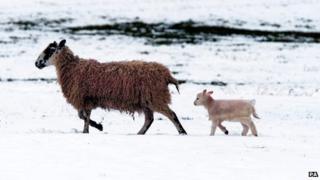 The UK has just experienced the coldest March since 1962, and England its fourth-coldest since records began in 1910, according to the Met Office.
From 1-26 March the UK mean temperature was 2.5C - three degrees below the long-term average.
The extreme weather has had far-reaching effects on much of daily life.
Who has suffered as a result - and has anyone actually benefited from the cold snap?
Sheep farming - thousands of animals dead
Thousands of sheep and new-born lambs have died in the recent cold spell, according to the National Farmers' Union (NFU).
The cold weather "couldn't have come at a worse time" because it coincided with the height of the lambing season, said NFU spokesman Mike Thomas.
Although hill farmers are used to dealing with snow, this year it has come much later in the season when sheep are at their most vulnerable because they are in the late stages of pregnancy or at the start of lambing.
The farms most affected by the snow are in west Cumbria, the Pennines, the Peak District, Shropshire and north Wales.
The Royal Agricultural Benevolent Institution (RABI), a charity which provides financial assistance to farmers and their families, said that because most farmers were self-employed they had an income only if they had something to sell.
The situation for sheep farmers has been made worse because 2012 was also a bad year due to heavy rain and floods - and then the start of this long winter.
RABI spokesperson Philippa Spackman said the charity had already handed out £250,000 in the first 10 weeks of this year - £100,000 more than in the same period last year.
The NFU is currently negotiating with the government about compensation for farmers who have been affected by the cold.
The government has relaxed the rules about how long delivery drivers can work so that they can get essential supplies of animal feed through to farms.
Laws regarding the compulsory collection of animal carcasses from farms have also been relaxed where exceptional weather conditions make off-site disposal impossible.
Retail - spring collections left on the shelves
The cold weather has disrupted the retail industry.
Garden centres tend to do most business between March and June, but according to Peter Burks, chairman of the Garden Centre Association, the season has not yet begun.
Sales of plants and associated products, such as compost and pots, have stalled completely.
Neil Saunders, managing director of retail analysts Conlumino, said the cold weather had disrupted shops' purchasing strategy and left them out of step with consumer demand.
While clothes shops are stocking their spring collections, customers are still looking to buy warm winter clothing, leaving many shops with unsold stock which must be discounted - with a consequent impact on profits.
However. the cold weather has been beneficial to some retailers.
Tesco says sales of bird feed and hot chocolate rose when the cold weather arrived.
Other products also sold well in the cold, including rock salt, lower-price cat litter and sausages.
Apple growing - energy-saving chill paves way for bumper crop
Last year was a bad one for British apple growers as the wet weather adversely affected pollination and crops.
But this year's cold weather may prove a blessing in disguise, according to Adrian Barlow, chief executive of English Apples and Pears, a trade association of English growers.
He said the prolonged cold snap had helped "put the trees to sleep".
This process, during which the trees effectively hibernate, is essential for them to build up energy over the winter months, which in turn helps ensure a good crop later in the year.
The beginning of May, when the trees begin to blossom is a critical period.
If, as predicted, the weather improves towards the end of April, the blossom should escape frost damage, producing a greater yield than last year's crops.
Wildlife - puffins and hedgehogs struggle to survive
The cold has taken its toll on Britain's wildlife, particularly those animals whose populations are already dwindling.
According to Nik Shelton, of the RSPB, few hedgehogs have been seen as they remain in hibernation because of the cold, many dying in their winter hideaways.
Populations of slugs and snails, their main prey, are also dwindling.
In fact, all animals which rely on invertebrates for food have struggled as their food supplies diminish.
The bodies of hundreds of puffins have been washed up on the shores of Scotland and Northumberland in recent weeks, almost certainly killed by the cold as they are forced to search farther out to sea for what little food is available.
Barn owls have also been affected. The snowfall has made it hard for them to find voles, their normal prey. As a result they resort to hunting in hedgerows, often by roads, and are frequently hit by cars.
Energy bills - 'heat or eat' choices
The increase in demand for gas during the cold spell has put significant pressure on the gas supply system, and wholesale prices have risen by 10% since the start of the year.
Joe Conlan, an analyst at energy consultants Inenco said: "The system has struggled to balance on a number of days.
"Storage levels are alarmingly low, with Rough Storage, the UK's biggest storage facility, at under 10% of capacity.
"Further price rises are likely over the remainder of the cold spell and beyond."
The cost of keeping warm has been a major source of concern.
The Department for Energy and Climate Change has been operating a scheme which gives some pensioners a one-off discount of £135 off winter electricity bills.
Despite this, there are still concerns about the effect of high fuel bills on household budgets.
Campaigner James Granger, of Fuel Poverty Action, said "UK bill-payers are paying a severe price for this year's freezing spring, facing further weeks of impossible 'heat or eat' choices, on top of hundreds of extra pounds on their bills."
Tourism - on holiday, whatever the weather... but where?
For many Britons the guarantee of good weather is the main consideration when choosing a holiday destination, says the Association of British Travel Agents.
It said last-minute bookings to warmer places over Easter increased substantially compared with last year.
And bookings for summer holidays overseas have also gone up, despite the economic climate.
A survey by VisitEngland, carried out the week before Easter, suggested that 2.7m Britons would take at least one overnight trip in the UK over the bank-holiday weekend, with a further 4.9m undecided.
But 2.9m said they were waiting to see what the weather was like, it reported.