Peanut butter sales up as marmalade falls from favour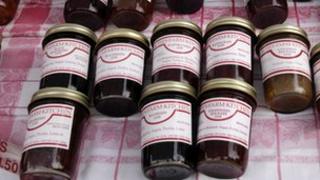 Peanut butter and chocolate spread are catching up with jam and marmalade as Britain's favourite breakfast spreads, according to market research.
Britain consumed 14 million kg of peanut butter in 2012, spending £56 million in the process, up from £47 million in 2010.
Sales of chocolate spread have risen from £37 million to £46 million in the same period.
Marmalade sales have declined by 7% since 2010, to £56 million.
Sales of jam, Britain's most popular sweet spread, have remained constant at £118 million between 2010 and 2012.
However, 7% of Britons say they have made the switch from jam or marmalade to peanut butter or chocolate spread
'Old fashioned'
Only 18% of 16-24 year olds eat marmalade, compared with 57% of those over 55.
Vince Bamford, food and drink editor of The Grocer magazine, said marmalade was "perceived as being old fashioned" and that "modern consumers have to an extent moved on".
Retail analyst Neil Saunders said the decline in marmalade sales was in part due to "the proliferation of choice in other spreads".
He also observed that people with young children want something "a little bit indulgent", and that chocolate spread is seen in this way while marmalade is not.
Increased innovation
Kiti Soininen, head of UK food, drink and foodservice research at Mintel, said clever advertising campaigns have convinced people to eat peanut butter and chocolate spread throughout the day, and not just at breakfast.
"Both spreads have benefited from increased innovation and marketing campaigns to widen usage occasions," she said.
She said that it is also possible that the economic downturn has lead to more people cooking at home, and that households with children want more variety in their diets.
Despite the decline in marmalade sales, retailers believe that it still has a future.
Tesco spokeswoman Treeva Fenwick said: "We're looking at new flavours all the time and customers still enjoy the traditional favourites too."