Abu Qatada deportation decision due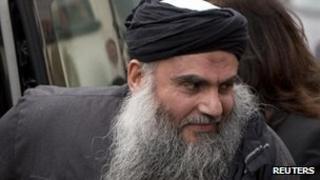 Home Secretary Theresa May is due to learn whether she has won an appeal to overturn a decision to allow radical cleric Abu Qatada to stay in the UK.
Mrs May took the case to the Court of Appeal after judges ruled last November Abu Qatada could not be deported to Jordan for a retrial over alleged involvement in terrorism plots.
Her lawyers argued they took the wrong approach in reaching the decision.
His re-arrest this month followed an alleged breach of bail conditions.
The alleged breach involved condition 10 of his bail agreement, which concerned the use of communications equipment at his home.
Judges at an urgent Special Immigration Appeals Commission on 9 March ruled he must return to Belmarsh prison.
The Metropolitan Police said his re-arrest was linked to an investigation into extremist internet material.
The special immigration appeals commission (Siac) ruled in November there was a "real risk" evidence gained by torture could be used against Abu Qatada at a retrial in Jordan, meaning that he would not get a fair hearing.
In April 1999, he was convicted in his absence on terror charges in Jordan and sentenced to life imprisonment, and it is on these charges that he faces a retrial.
'Compelling evidence'
At a Court of Appeal hearing earlier this month, lawyers for the UK government argued a block on his deportation should be lifted, saying a "fair" trial in Jordan was possible.
James Eadie QC, appearing for Mrs May, said Siac had taken an "erroneous" view of the situation in Jordan and the legal tests that had to be applied when it came to assessing the conditions Abu Qatada could face there.
He said Jordanian law bans the use of torture and reliance on statements extracted under duress.
Jordanians will do everything in their power to make sure Abu Qatada receives a trial that was "fair and seen to be so", he added.
But lawyers for Abu Qatada told the court that the UK should not send someone back to a country with a "dubious human rights record".
Edward Fitzgerald QC, appearing for the cleric, argued the Siac ruling was right and there was "concrete and compelling evidence" that his co-defendants were tortured into providing evidence.
He said government lawyers had "identified no error of law" and were "quarrelling with findings of fact".
Restart deportation
If Mrs May wins the appeal, it would allow her to restart the deportation. But it is highly likely there will be more appeals to the Supreme Court or the European Court of Human Rights.
Abu Qatada was first arrested in October 2002 in south London and detained in Belmarsh high-security prison. He was re-arrested and released on bail number of times over the years that followed.
In November 2012, he was released on bail from prison in when the courts blocked the home secretary's latest attempt to deport him to Jordan.
He was subject to strict bail conditions, including only being allowed out of his house between 08:00 and 16:00, having to wear an electronic tag, and being restricted in who he meets. He is also banned from using mobile phones and computers.
The Metropolitan Police said his re-arrest earlier this month was linked to an investigation into extremist internet material.
The police force is investigating whether he was involved in the material's publication.
Lord Dyson, the Master of the Rolls, sitting with Lord Justice Richards and Lord Justice Elias at the Court of Appeal in London, are due to announce their decision on whether Abu Qatada can remain in the UK on Wednesday morning.