Police's Savile Yewtree inquiry 'has gone too far'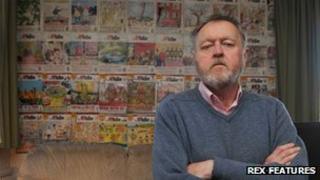 A former BBC producer who was accused of indecently assaulting a girl says the inquiry linked to the Jimmy Savile abuse scandal "has gone too far".
Wilfred De'Ath, from Cambridgeshire, spoke out after being told he will not face charges over the allegation, which dates back to the 1960s.
He said the Metropolitan Police were being "overzealous" and arresting people on "spurious" claims because they had "failed miserably" on Savile.
The Met Police has yet to respond.
'Failed to get him'
In an interview with BBC Radio 4's Today programme, Mr De'Ath, who is in his 70s, said his "pretty horrifying" arrest four-and-a-half months ago had involved seven police officers.
"I do realise they were only doing their job, but it seems to me they were overzealous," he said.
"They failed miserably in the case of Jimmy Savile. They failed to get him when they could have got him. And it seems to me they've gone too far the other way now and are arresting people on rather spurious allegations."
The Metropolitan Police's Operation Yewtree is looking into allegations that have arisen against the late BBC DJ and television presenter Savile since he died in 2011.
It has three strands - one is looking specifically at the actions of Savile and the second strand concerns allegations against "Savile and others".
The third strand relates to alleged complaints against other people unconnected to the Savile investigations.
Although he once produced a Savile radio show, Mr De'Ath's arrest was under this third strand.
Eleven people have been arrested under Operation Yewtree and he is the first suspect that the Crown Prosecution Service has made a decision on.
The Crown Prosecution Service (CPS) said on Monday there was not enough evidence to charge Mr De'Ath after the complainant had withdrawn her statement.
Mr De'Ath , who has always maintained his innocence, said he had been questioned about an allegation that he had indecently assaulted a 14-year-old girl in the mid-1960s after inviting her to go to a press showing of a film.
He said that he had met the girl briefly at a party, but had never gone to the cinema with her or assaulted her.
'All womanisers'
Mr De'Ath was asked on Today about a previous claim that Savile had spent the night in a hotel with a girl who was probably 10-years-old.
Mr De'Ath said it had "never occurred " to him to go to the police.
"I did say to [Savile] 'I think you're living dangerously'," he said.
"I was pretty shocked and disgusted. Also, I was physically frightened of Savile. He had been a boxer and a wrestler and he was in with some very rough people.
"I would never have dreamed of grassing him up."
He said he "slightly regrets" not doing anything at the time but in the corridors of the BBC it was "common talk that he liked young girls".
It was a different culture in the 1950s and 1960s, he said, and "sexual matters were taken much more lightly".
"We were all womanisers in those days. But as far as I know womanising is not a criminal offence," he added.
"We were not paedophiles. You propositioned 100 women on the chance that two or three would say 'yes'."
Mr De'Ath said he was "full of self-loathing" because he had not acted over Savile but "you have to live with yourself".