India hotel jump woman recalls ordeal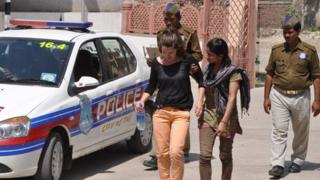 A British woman who jumped from a hotel balcony in India fearing a sexual assault has told the BBC that she shouted for help for more than an hour.
Jessica Davies, 31, of London said she had used furniture to barricade her hotel room door in Agra from two men.
"I held my key in the lock and I could feel them turning it from the other side," she said.
The manager and a guard from the Hotel Agra Mahal appeared in court last week facing sexual harassment charges.
Ms Davies, a dental hygienist, injured both legs in the jump but said it could have been a lot worse. She wanted to talk about her experience "because the shame of sexual assault makes many people too scared to speak out".
Ms Davies condemned as "disgusting" fellow hotel residents who had not helped.
Terrifying though her experience was, it was hardly unique to India. And hundreds of thousands of visitors pass through Agra every year to see its historic Taj Mahal with little incident.
But with the safety of women in India still a simmering issue since the brutal assault of a Delhi student before Christmas and the recent gang-rape of a Swiss tourist, Jessica Davies's plight got instant headlines in India and abroad.
'One way out'
Her ordeal began when she was "surprised" by a knock at her door at 3.45am, she said.
She denied reports she had asked for a wake-up call, saying she had set her phone alarm for 4.30am to catch a taxi for an early train to Jaipur.
Still in her pyjamas, she said, she had opened the door to find the hotel manager asking if she wanted to take a shower and offering a massage. "He was showing me this oil he had," she said.
When he refused to go away, she barricaded herself inside. For the next hour and a quarter "I was kicking the door and screaming hoping someone would help", she said.
"By hook or by crook this person - or persons - were going to get into my room. I'm 100% certain. And there was only one way out, to jump two floors."
In an interview with Indian television, two Belgian tourists staying in the hotel said they had heard shouts and banging noises for over an hour.
When she hit the ground, Ms Davies heard a shout but "I didn't look back and just ran", barely aware of her injuries, she said.
It was still dark and no-one would stop to help. But she said a passing rickshaw driver took her to a police station, staying with her for hours, helping to translate.
"He was amazing," she said, but added: "I don't know his name and I don't know how to thank him."
She also praised Agra police and British consular staff sent to help her.
Now back in London, the dental hygienist had been half-way through a six-week trip, intending to go on to China.
Ms Davies insisted she had been "exercising a lot of caution and wearing appropriate clothes" after hearing about recent cases.
She said she would return to India, but was "never going to travel alone again".