Jim Davidson arrested over new sexual offences claims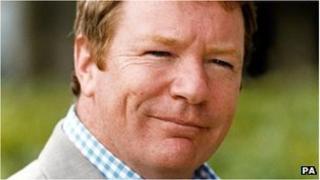 Comedian Jim Davidson has been questioned about new allegations of sexual offences as part of a probe related to the Jimmy Savile inquiry.
The 59-year-old was answering bail on Wednesday at a London police station when he was "further arrested on suspicion of sexual offences", said Scotland Yard.
His solicitor Henri Brandman says he "vigorously denies" the allegations.
He was initially arrested in January by detectives from Operation Yewtree.
The investigation was set up in the wake of sexual abuse allegations made against Savile.
'All adults'
Mr Brandman said that "several women" had made allegations against Mr Davidson dating back about 20 years, and in one case dating back 35 years.
He added: "The complainants were all adults at the time of the alleged events. Jim vigorously denies the allegations.
"He answered police questions as fully as he is able after this passage of time.
"He has not been charged with any offences."
After his second arrest, Mr Davidson was released again on bail until May.
Another man - also arrested in January on suspicion of sexual offences - was also re-bailed until May.
Scotland Yard has so far arrested 11 people under Operation Yewtree, its inquiry into historical allegations of sexual abuse linked to the entertainment industry.
The investigation was launched in the wake of revelations that ex-TV presenter and Radio 1 DJ Jimmy Savile subjected hundreds of young people and children to sexual abuse over four decades.
The operation has three strands. One is looking specifically at the actions of Savile and the second strand concerns allegations against "Savile and others".
The third strand relates to alleged complaints against other people unconnected to the Savile investigation. Mr Davidson's arrest comes under this category.
Last week Dave Lee Travis, the ex-Radio 1 DJ and Top of the Pops presenter, was questioned for a second time after further allegations were made to Operation Yewtree detectives.
Mr Travis, of Mentmore, Bucks, was arrested on 11 March after answering bail following his first arrest in November 2012. He has denied any wrongdoing.