Cooking oil theft 'costs Treasury £25m a year in lost duty'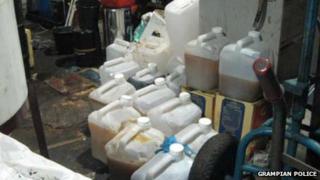 The theft of used cooking oil is costing the Treasury £25m a year in lost duty, a leading UK resource recovery company has claimed.
They say it is being stolen from restaurants and takeaways and being converted into unregulated biodiesel for sale on the black market.
"As much as 20% of used cooking oil produced in UK is stolen," said Adam Baisley, commercial director at Olleco.
HM Revenue & Customs (HMRC) said it is monitoring the trade closely.
HMRC said it did not know how many people were producing biodiesel.
"There are people out there now who want to steal what used to be considered a waste because it's now a valuable resource.
"The duty and the VAT is about 80p a litre but then if you're stealing the material you're not giving any revenue to the person that resource belongs to so they end up producing biodiesel quite cost effectively," said Mr Baisley.
Used cooking oils from commercial sites cannot be poured down the drains and must be collected by a waste carrier. It is often stored in large container tanks at the back of premises which are being targeted by thieves.
Olleco collects and converts used cooking oil into biodiesel and had 216 reported used cooking oil thefts made to them in February 2013.
Some criminals are even posing as legitimate waste removal companies in order to steal the oil from catering establishments.
Once stolen, the oil is then sold onto unsuspecting processing plants for conversion into biodiesel or is being converted into biodiesel by the criminals themselves.
Biodiesel is a type of fuel that is a diesel substitute that can be used to run motor vehicles. It is produced from animal fats or waste cooking oil following a chemical process.
The cost to produce sustainable and professional biodiesel from used cooking oil is about £1.24 per litre, but producing biodiesel on the black market with stolen oil can cost just 20p a litre.
'Back street industry'
The BBC's 5 live Investigates programme has learned that 30 million litres of illicit biodiesel is estimated to be made as a result of these thefts each year.
The legitimate biodiesel industry believes the black market is costing the Treasury £25m a year.
Since 2007, members of the public can make up to 2,500 litres of their own biodiesel a year without having to pay tax, but leading industry experts say this has created an underground industry.
They claim many producers are ignoring the 2,500 litre limit and manufacture far more than they are entitled to.
"With the price of fuel it's too tempting for people to say we're only producing a small amount of fuel that stays below the criteria for being a proper registered producer with all the costs and all the bureaucracy and all the burdens that brings with it," says Jim Walker, managing director of Argent Energy.
"There are two types of industry in the bio fuels industry, one which is mainstream which is doing it correctly, following legislation which is very strict and another which is effectively a back street industry which shouldn't be allowed to happen under any circumstances."
Some 24 illegal biodiesel sites have been shut down by Revenue and Customs officers in the last 11 months.
"Once they go outside personal use then they come into our radar. We're quite confident we can come across people quite quickly once they breach the limit," said Pat Curtis the national oils co-ordinator for HMRC.
'Fuel fraud'
In February last year, two illegal biodiesel production plants were shut down in Peterhead, Scotland.
Revenue and Customs officers seized nearly 4,000 litres of illicit fuel, 750 litres of methanol, 200 litres of kerosene, pumps, equipment and business records.
Seventeen people were convicted for fuel fraud in the past four years, according to HMRC figures. It is understood that none were for biodiesel fraud.
"The amounts of biodiesel that we have detected being illicitly used were of a relatively low level compared to some of the other fuel fraud regimes that we come across," said Mr Curtis.
"It's not usual to find a laundering plant that has the capability to produce three to four million litres of counterfeit fuel a year. But in most cases the biodiesel fraud plants were pumping out about 10,000, 15,000 litres a year and we take that into consideration," said Mr Curtis.
In December 2012, two men were jailed for stealing 220,000 litres of cooking oil from takeaways and supermarkets across the UK.
Stuart Bradley, 38 and Matthew Walker, 27, both from Stourport, Worcestershire, were each sentenced to two years behind bars after being linked to 227 thefts between November 2011 and February 2012.
Det Con Gareth Homer from West Midlands Police led the investigation: "This was something which wasn't heard of in our office and it was a new sort of problem which had come to our attention."
The two men stole £147,000 worth of oil by posing as waste removal staff from a legitimate oil recycling firm.
"They would target these oil tanks in the early hours of the morning, break into the tanks and siphoned off the oil.
"They would drive off in a matter of minutes when they would then take it to a waste collection company and sell the oil."
You hear the full report on 5 live Investigates on Sunday, 24 March, at 11:00 GMT on BBC 5 live.
Listen again via the 5 live website or by downloading the 5 live Investigates podcast.