Al-Sweady Inquiry: Iraqi men 'mutilated' after Iraq War battle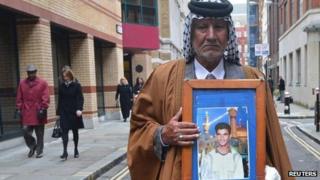 The first Iraqi to speak at an inquiry into the alleged murder and abuse of Iraqi detainees by British soldiers claims he saw "mutilated" bodies in the aftermath of the incident.
Mizal Karim al-Sweady told the inquiry injuries suffered by his son Hamid appeared to include signs of torture.
The inquiry is examining whether UK soldiers mistreated and killed Iraqis after the Battle of Danny Boy in 2004.
The MoD denies the claims, insisting the dead were killed in battle.
Mr al-Sweady, one of 15 Iraqis flown to the UK give evidence at the Al-Sweady Inquiry, said the bodies were returned with a "combination of injuries" including "eyes missing, tongues cut out [and] teeth removed".
His son Hamid, whom the inquiry in London is named after, is thought to be one of the detainees who was killed.
The Iraqis claim 28 men were unlawfully killed at Camp Abu Naji near Majar-al-Kabir in southern Iraq in May 2004.
Five detainees were allegedly tortured and mistreated both there and at Shaibah Logistics Base, where they were held until September.
Mr al-Sweady began his testimony by showing inquiry chairman - retired High Court judge Sir Thayne Forbes - a picture of his son.
He said Hamid had been in the fields studying for a physics exam when the British attack was launched.
Night search
Speaking via an interpreter, Mr al-Sweady said he searched the fields by torchlight, frantic with worry, after Hamid failed to come home.
The following day, the bodies of those killed were released by the British armed forces and were taken by Iraqi ambulances to a nearby hospital.
Mr al-Sweady said he searched through the body bags to find his son. He said Hamid's jaw was dislocated, right arm fractured and he had bullet wounds to the middle of his neck and right foot.
He claimed to have seen injuries sustained by at least 20 Iraqi men.
During his statement, he said: "We had to wash the body of the deceased and at that time I saw the injuries with my own eye.
"I saw a combination of injuries such as eyes missing, tongues cut out, noses cut off, teeth removed, bodies had been distorted and mutilated and covered in blood."
The inquiry heard however that Mr al-Sweady had changed some of his claims. He had previously said he saw only one body with eyes missing and one with a broken nose.
Discrepancies between statements that Mr al-Sweady gave to Iraqi Police, the Royal Military Police and the inquiry itself were also revealed.