PCS union announces further strike after Budget day action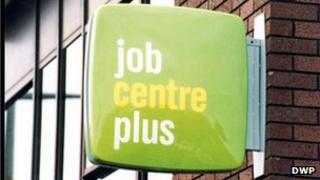 Civil servants are to stage a second strike over pay and pensions, following an initial Budget day walkout, the Public and Commercial Services union has said.
It confirmed almost 250,000 members working for government departments and bodies would join a half-day strike on 5 April, the end of the tax year.
The union is planning three months of industrial action, starting with a 24-hour protest on Wednesday.
The government said action was futile.
The PCS, which chose Wednesday's strike to coincide with Chancellor George Osborne's Budget announcement, has accused the government of refusing to negotiate over cuts.
Members, who include customs, immigration, benefits and Jobcentre staff, want a 5% pay rise, or £1,200.
A campaign against tax avoidance and evasion is also at the heart of the action.
'Lost faith'
PCS general secretary Mark Serwotka confirmed members would "quickly follow up our Budget day strike" with another walkout in a bid to "step up our campaigning for the government to take serious action against wealthy tax dodgers".
"With polls showing people are less likely to support government policies if George Osborne's name is attached, it is clear the public have lost faith in austerity and want an alternative."
The union also accuses the Treasury of urging ministers to scrap decades-old civil service pay arrangements that enable staff to progress from minimum starting levels up a series of pay bands within their grade.
A spokesman for the Cabinet Office said it was "disappointing that yet again the PCS insist on pushing for futile action which benefits no one and damages the services they deliver to the public".
He underlined the government had taken the "tough decision to freeze public sector pay for two years, while protecting those earning under £21,000 by increasing their pay by at least £250 per year".
"Pay restraint has helped to protect jobs in the public sector and support high-quality public services," he said.
The spokesman also pointed out the government had taken part in more than a year of "intensive discussions" with trades unions.
"These reforms will ensure that public sector pensions will remain among the very best available and that they can be sustained for future generations."
And while there had been "significant recent change in pay and pensions", some terms and conditions had not been updated and were now "outliers compared to best practice".