Press regulation deal 'is still possible'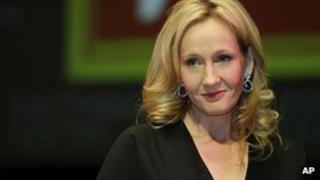 A deal on press regulation is still possible, senior politicians have said, ahead of a Commons vote on Monday.
The vote is expected to be close, with David Cameron facing possible defeat.
But Chancellor George Osborne and Labour's Harriet Harman both told the BBC they hoped the parties could agree on the terms of a press watchdog set up by royal charter before the vote.
Meanwhile, JK Rowling said victims have been "hung out to dry", and urged MPs to "have the courage" to protect them.
Wrangling over press regulation in England and Wales came about following Lord Justice Leveson's inquiry into press ethics.
The inquiry was sparked by revelations of the illegal practice of phone hacking by journalists, which let to the closure of the News of the World in 2011.
Leveson found newspapers had "wreaked havoc with the lives of innocent people" under the existing regime of self-regulation, and called for a new, independent regulator backed by legislation designed to assess whether it is doing its job properly.
'Late stage'
On Thursday, the prime minister called time on cross-party talks on reforms and instead published plans for a royal charter to establish a tougher press regulator.
In response, deputy prime minister and Liberal Democrat leader Nick Clegg and Labour leader Ed Miliband joined forces to unveil rival plans.
Both the prime minister and the two other parties agree on the concept of a royal charter, a formal document used to establish and lay out the terms of an organisation, for example the Bank of England or the BBC, that cannot be changed without government approval.
However, a major sticking point is whether a new self-regulatory body should be backed by law.
Mr Cameron believes enshrining it in law will harm press freedom but Mr Clegg and Mr Miliband insist on it - they say the rules would lack impact without it.
The other main differences in the rival royal charter, which Mr Clegg launched with Mr Miliband, involve not giving the press a veto over the members of the regulator and preventing it from being watered down or strengthened by future governments.
Mr Osborne said progress had been made.
"It would be great on Monday if we can get some kind of agreement, even at this late stage, between the parties," he told the BBC's Andrew Marr show.
Shadow culture secretary Ms Harman told the BBC1's Sunday Politics show: "It's a very reasonable proposal so it seems a bit unreasonable that we can't reach agreement on it... It would be better if the House was able to bless a proposal which had been agreed by all."
If it comes to a Commons vote, the prime minister has indicated he will abide by the decision.
'Eyes on Clegg and Miliband'
Meanwhile, Harry Potter author JK Rowling, who gave evidence to the Leveson Inquiry about press intrusion into her family's privacy, said: "I believed David Cameron when he said that he would implement Leveson's recommendations 'unless they were bonkers'.
"I did not see how he could back away, with honour, from words so bold and unequivocal.
"Well, he has backed away, and I am one among many who feel they have been hung out to dry.
"Monday's vote will make history one way or another - I am merely one among many turning their eyes towards Ed Miliband and Nick Clegg and hoping that they have the courage to do what Cameron promised, but which he failed to deliver."
Speaking to the Observer, Mr Miliband said: "Monday is the day that politics has got to do the duty by the victims and has got to stand up for the victims."
Mr Cameron has insisted his proposal is "the fastest possible way to deliver the strong self-regulation body that Leveson proposed that can put in place million-pound fines, prominent apologises and get justice for victims in this country".
National newspaper editors are against any statutory underpinning, saying it would erode the freedom of the British press, but victims say it is vital to stop future abuses.
The Sun On Sunday reported that "Britain's long, proud status as a beacon of press freedom is under threat", quoting the World Press Freedom Committee as saying any statutory-based scheme would constitute a "draconian regime".
But Bob and Sally Dowler, the parents of murdered schoolgirl Milly Dowler, have said they are "disappointed" that the Leveson recommendations may not be used. The NoW was shut down after it was found Milly's phone had been hacked.
Hacked Off, the campaign group representing some press abuse victims that has led calls for full implementation of Leveson, called the royal charter proposal a "shameless sell-out to his friends in the national press".
One of its key figures, the actor Hugh Grant, told the BBC's Andrew Marr show: "It was never ideal that this would be done by royal charter - that seemed to us strange to haul this medieval instrument out of history and use that - but it's not bad.
"The important victims of this - and I do not include people like myself... would be supportive of it.
"That's why it's a really crucial debate for MPs. MPs promised victims to do right by them and they have that chance on Monday."
He also revealed he called members of the shadow cabinet on Tuesday to lobby members after talk of a compromise.