Drones may be used to target 'illegal hunting'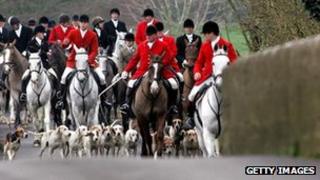 Remote control aircraft could be used by an anti-hunting group to gather evidence of hunts breaking the law.
The League against Cruel Sports will use cameras mounted on the aircraft to monitor any illegal activity that would otherwise be difficult to film on the ground.
A charity spokeswoman said evidence would be collected and passed on to the police.
The Countryside Alliance said the idea was "completely impractical".
A spokeswoman for the league said: "No one owns the upper stratum of airspace so provided the drones fly at a reasonable height so as not to cause a nuisance they will not be trespassing.
"We would only use this equipment if we believed illegal activity was taking place, we wouldn't just go out and monitor anybody."
The group said it would be working with ShadowView, a non-profit aerial surveillance and monitoring organisation, to gather evidence of hunts and individuals illegally hunting and committing other wildlife crimes such as hare coursing and badger baiting.
It has been illegal to use dogs to hunt most animals in England and Wales since 2005, and in Scotland since 2002.
Hunts are no longer allowed to use dogs to chase foxes, but are instead supposed to use techniques such as drag hunting, where dogs set off on the trail of a scent laid about 20 minutes in advance by a runner or rider dragging a lure.
Chief executive at the League Against Cruel Sports, Joe Duckworth, said: "There is a war in the countryside and whilst there are still individuals determined to flout the law and seek new ways to avoid detection, the league will continue to explore safe, tested and innovative technology to further our charitable aim of ending cruelty to animals in the name of sport."
The league said drones had already been used by the Ulster Society for the Prevention of Cruelty to Animals in Northern Ireland to deter badger baiters, and by the WWF in operations against poachers in Africa.
'Increasingly desperate'
The Police Federation, which represents rank-and-file officers in England and Wales, said evidence obtained through the use of drones would be treated in a similar way to that obtained using CCTV.
"It would depend on the quality of footage. It would need to be assessed through the relevant procedures," a spokeswoman told the BBC.
Tim Bonner, of the pro-hunting Countryside Alliance, said the League Against Cruel Sports was becoming "increasingly desperate".
He added: "There are some really quite profound arguments going on about whether a non-governmental organisation should be able to carry out these sort of activities without proper scrutiny," he said.
Mr Bonner said there were also civil liberties questions to answer on drones flying and filming over private property.
It is legal to fly your own drone in the UK without any special permission if it weighs less than 20kg and is flying more than 150m from a congested area