Alexander Litvinenko inquest delayed for five months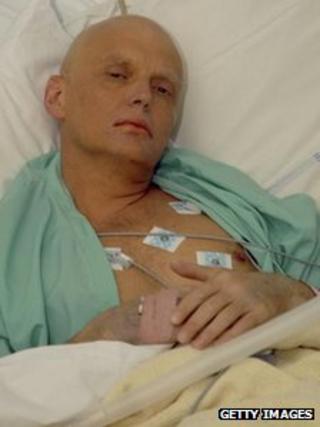 The inquest into the death of Russian spy Alexander Litvinenko in London has been delayed until 2 October.
The poisoned KGB agent's inquest was due to start on 1 May, but at a pre-inquest review coroner Sir Robert Owen said he was postponing it "with great reluctance".
The UK government and Russia had been slow to release material, he said at a Royal Courts of Justice hearing.
A lawyer for the late spy's widow said she was unhappy about the delay.
Mr Litvinenko, 43, died in 2006 after he was poisoned with polonium-210 while drinking tea at a London meeting.
He was working alongside Spanish spies for MI6 in the days before his death.
The pre-inquest review heard the delay was partly due to the fact the UK government and Russia's investigative committee had been slow to disclose documents for the case.
It heard some had been asked for evidence in January last year, but had only started disclosing it in October.
Some 10-15,000 pages of Russian documents due to be sent in the coming months would also need to be translated, the hearing was told.
Sir Robert said he considered the possibility of hearing some parts of the inquest while evidence was still being compiled, but said this was not possible.
He told the court he would decide in the next two weeks on whether to keep sensitive documents out of the inquest for reasons of national security, as the government had requested.
The coroner added that Russian MP Andrei Lugovoi - a former KGB officer who is suspected of killing Mr Litvinenko - had misunderstood the inquest process in his statements earlier in the week.
"He appears to assert that there will be court sessions held in secret," Sir Robert said.
"That is a misunderstanding as to the nature of an inquest and the application that has been made on behalf of Her Majesty's Government."
'Grave disappointment'
On Tuesday, Mr Lugovoi said he would not attend the inquest, telling a Moscow press conference he could not receive "justice" in Britain.
Russia has refused to extradite Mr Lugovoi to the UK for questioning. He has also denied any involvement.
It has been claimed that Mr Lugovoi and another former KGB agent, Dmitry Kovtun, poisoned Mr Litvinenko at the Millennium Hotel in London's Grosvenor Square.
But Mrs Litvinenko today said she was not surprised by his decision.
Speaking outside the court on Thursday, Mrs Litvinenko said she was not surprised by the inquest's delay, adding she still had faith in the legal process.
"It's not easy, but I do understand," she said. "So many things happened already. It started in 2011, it did not happen then.
"I still have faith. I have an extraordinary team and I appreciate the job they do for me."
Responding to Mr Lugovoi's comments, Mrs Litvinenko's family friend Alex Goldfarb said he suspected the Russian MP had cooperated earlier so he could see the evidence which the police had against him which had been made available to all parties involved in the inquest.
Lawyer Henrietta Hill, for Mrs Litvinenko, said the widow and her son had an "entirely human need" to find out what had happened.
"We find ourselves already in a position where it is over six years since he died," she said.
She added there was a "grave disappointment" that some government departments seemed to have ignored the court's requests for documents.
Home Office spokesperson Neil Sheldon told the coroner: "Lest there be any doubt about it, may I be permitted to assure you that Her Majesty's Government accords your investigation the highest priority.
"It is clearly appropriate and necessary that no conceivable stone is left unturned.
"We continue to work with your team to make sure they are turned."
'Source of frustration'
Last month, Sir Robert ruled that sensitive evidence alleged to expose Mr Litvinenko's ties to MI6 were to be examined in secret.
He has said he will examine what was known of threats to Mr Litvinenko's life and also whether the Russian state was responsible for his death.
He has also agreed that a group representing Russian state prosecutors can be accepted as a party to the inquest process, which would allow it to cross-examine witnesses and examine evidence.
British Government documents that implied Russia was behind the 43-year-old's death were also revealed. Moscow has denied any involvement.
Applications for anonymity of witnesses were due to be heard during Thursday's hearing. The coroner is expected to consider submissions on the inquest timetable.
During the hearing, Robin Tam QC - counsel for the inquest - said it was "unrealistic in the extreme" to believe it would begin in May.
He also said the slow disclosure of information by various government departments had been a "source of some frustration", but it was expected all material - including Metropolitan Police documents - would be collected by the end of July.