Chris Huhne's jailed ex-wife Vicky Pryce 'very frail'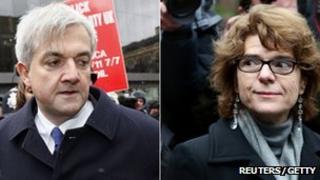 Vicky Pryce, imprisoned for eight months along with her ex-husband and former Lib Dem minister Chris Huhne, is "very frail", her brother has said.
George Courmouzis said he was "worried" about conditions in London's Holloway.
Huhne's partner, Carina Trimingham, has rejected claims he was ridiculed on his first day in prison, adding that he is "absolutely fine and in good spirits".
Huhne admitted asking Pryce to take his speeding points in 2003 and Pryce was convicted of having agreed to do so.
Mr Courmouzis told BBC Radio 5 live: "Our family has no experience of going to prison. Physically, Vicky is very frail."
Pryce, who is being held at Holloway Prison, in London, was convicted after a retrial.
The jury in a previous trial failed to reach a decision.
"By then she was broken and her defences were down," said Mr Courmouzis of his sister by the time of the retrial.
"I am worried about conditions in jail," he added.
Pryce, 60, went to a newspaper with the story after their marriage broke up.
Asked about his sister's motivation, Mr Courmouzis said: "Anger blinds you and humiliation breeds revenge. And this is what drove her."
Huhne left Pryce, his wife of 25 years, in June 2010 for Ms Trimingham, a media consultant who had been on his leadership campaign team.
Ms Trimingham has rejected rumours that the former cabinet minister was being bullied in Wandsworth Prison in south-west London.
She said claims that Huhne, 58, was ridiculed on his first day and had asked to be moved to a wing for vulnerable prisoners were "complete and utter nonsense".
Ms Trimingham, who visited her partner on Wednesday morning, said: "He is getting on well both with inmates and officers and he is absolutely fine and in good spirits."
The attorney general has been asked by a Conservative MP to appeal against the sentences given to Huhne and Pryce for being too lenient.
David Burrowes has asked Dominic Grieve to consider appealing against the eight-month jail terms.
The attorney general - the government's senior law officer - must now respond, explaining his decision.
Mr Grieve must decide by 8 April - 28 days after the original sentence - whether to refer the case to the Court of Appeal, which has the power to either increase the sentences or leave them the same.
'Unduly lenient'?
A spokesman for Mr Grieve confirmed that the attorney general's office had received a request to review the sentences.
He said: "One of the law officers will consider whether they should be referred to the Court of Appeal as possibly unduly lenient."
Huhne resigned as energy and climate change secretary when he was charged with perverting the course of justice, and then quit as the Liberal Democrat MP for Eastleigh after pleading guilty.
Speaking ahead of sentencing, Huhne told Channel 4 News that his actions had spun into a "massive, devastating set of consequences for family, for career and for everything".
Huhne and Pryce were charged last year over an incident in March 2003 when Huhne's BMW car was caught by a speed camera on the M11 between Stansted Airport in Essex and London. He was an MEP at the time.
The prosecution said that between 12 March and 21 May 2003, Pryce had falsely informed police she had been the driver of the car, so Huhne would avoid prosecution.
He was in danger of losing his licence having already accrued nine penalty points.