Dave Lee Travis arrested over new sex offence claims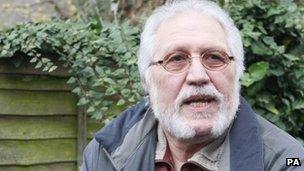 Dave Lee Travis, the ex-Radio 1 DJ and Top of the Pops presenter, has been arrested over further claims of sexual offences, Scotland Yard has confirmed.
Mr Travis, of Mentmore, Bucks, was arrested on Monday after answering bail following his first arrest in November 2012 as part of Operation Yewtree.
On Wednesday, he denied any wrongdoing and said his "conscience is clear".
A senior Crown prosecutor has said a number of "significant" arrests of sexual abuse subjects are planned.
In a statement, a Metropolitan Police spokeswoman said: "A man in his 60s who we term 'Yewtree Four' returned bail on 11 March and was interviewed.
"The man in his 60s was further arrested on suspicion of sexual offences in connection with further allegations made to Operation Yewtree."
Mr Travis has been bailed to return to police in April.
Speaking after his re-arrest, Mr Travis said his "conscience is clear" and repeated his assertion that he had not done anything wrong.
At the time of his first arrest, 67-year old Mr Travis denied any wrongdoing and stressed that the allegations against him had nothing to do with children.
Meanwhile, the chief Crown prosecutor for north-west England has said a number of arrests are planned in the coming weeks of individuals under suspicion of committing sexual abuse.
Nazir Afzal said child sex abuse was "more widespread than we ever imagined".
Scotland Yard has so far arrested 11 people under Operation Yewtree, its inquiry into historical allegations of sexual abuse linked to the entertainment industry.
The investigation was launched in the wake of revelations that ex-TV presenter and Radio 1 DJ Jimmy Savile subjected hundreds of young people and children to sexual abuse over four decades.
The operation has three strands. One is looking specifically at the actions of Savile and the second strand concerns allegations against "Savile and others".
The third strand relates to alleged complaints against other people unconnected to the Savile investigation.
Mr Travis's arrest is understood to fall within the latter category.
Mr Travis - whose nicknames included DLT and the Hairy Cornflake - is best known for his 25-year stint on BBC Radio 1 which ended in 1993.
He also presented editions of Top of the Pops on BBC TV in the 1970s and 1980s.
Related Internet Links
The BBC is not responsible for the content of external sites.