Fly-tipping fines should be tougher, says Sentencing Council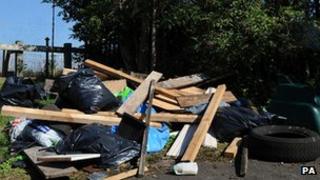 People responsible for repeatedly dumping waste should face larger fines, says the Sentencing Council for England and Wales.
The council, which gives guidance to the courts, says magistrates should impose greater fines more frequently against the most serious offenders.
The proposed guidelines are the first to be issued for environmental crimes.
The tougher fines would cover everything from illegal fly-tipping of DIY waste to dumping toxic materials.
Although illegal dumping of waste is one of the most visible of crimes, relatively few cases come before the courts.
Official figures show that fly-tipping has been decreasing for five years, but local authorities in England and Wales still had to clean up almost 800,000 incidents last year at a cost of almost £40m.
Town halls carried out almost half a million enforcement actions against offenders, 2,800 of which led to prosecutions. Most cases involved household waste.
In the consultation, the Sentencing Council says that fly-tipping and related environmental offences form only a small part of a magistrate's caseload, meaning they needed clear guidelines to avoid inconsistency in sentencing.
The draft guidelines say that magistrates should impose higher fines on the most serious offenders, such as those who are guilty of deliberate dumping of polluting chemicals or sharp objects that are hazardous to health.
'Significant damage'
The council has not proposed higher fines for less serious offences.
The maximum possible fine for a large company would be £2m for a major act of environmental damage.
Small companies, such as a family waste removal business, would face fines of between £450 and £2,000 for minor offences - but going up to £70,000 for causing serious harm.
The guidelines set a broadly similar starting point for fines imposed against sole traders or individuals.
In extreme cases, individuals can be jailed - but the council predicts that the proportion of fines and imprisonments is unlikely to change.
Katharine Rainsford, a magistrate and member of the Sentencing Council, said: "Offences like fly-tipping and illegal disposal of hazardous waste can cause significant damage to the environment and put people's health at risk.
"We're improving guidance for courts to help ensure consistent and appropriate sentences for offenders, particularly for corporate offenders who can be guilty of the worst offences.
"These offences are normally motivated by making or saving money at the expense of the taxpayer. Our proposals aim to ensure that sentences hit offenders in their pocket."
The consultation runs until 6 June 2013.