'Millions of cars' damaged by potholes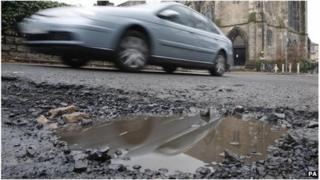 A third of drivers have suffered damage to their vehicles from potholes over the last two years, a survey suggests.
A third also rated the condition of their local roads as poor, very poor or "terrible", according to the AA/Populus survey of nearly 23,000 drivers.
Meanwhile, the Asphalt Industry Alliance says councils may need as much as £10.5bn to bring the country's "crumbling roads" into good condition.
The government said it had given councils over £3bn to maintain roads.
Only 10% of those who took part in the AA survey rated their local roads very good or excellent, with the lowest ratings going to Scotland and the Yorkshire and Humber region.
Drivers in Northern Ireland, Wales and London reported roads to be in best condition, but even there more than 50% of respondents only rated them as fair.
In north-east England, 59% of respondents said conditions were worse than a year ago, while those saying the roads had improved were greatest in Wales (13%) and London (12%).
AA members in Scotland were most likely to report pothole damage to their cars, with 44% saying their vehicles had suffered damage.
AA president Edmund King said: "Our findings are deeply worrying and show that UK drivers are once again experiencing a bad pothole season after a lull last spring - perhaps with worse to come. The slight let-up in potholes this time last year may have been just a blip in the annual pothole blight that seems to beset us each spring."
Repairs backlog
Meanwhile, the annual report from the Asphalt Industry Alliance (AIA) showed that last year council highways teams fixed 2.2 million potholes, 500,000 more than the year before.
Local authorities are responsible for 95% of roads in England and Wales.
However, the backlog in repairs is growing longer, now estimated at £10.5bn, and 20% of local roads are classed as being in "poor condition", which is defined as having five years or less life remaining.
Based on responses from 75% of England and Wales councils, the survey reported the average English authority was £6.2m short of what it needed to properly maintain its roads, up from £5.3m in 2011.
It also showed that repairing roads damaged by last year's flooding rainfall cost these local authorities around £338m. The AIA said local authorities in England, including London, reported a shortfall in their annual budgets totalling £829m.
Last year councils paid £32m in compensation to drivers whose vehicles were damaged by potholes, 50% more than 2011.
Efficiency programme
The Local Government Association, which represents more than 370 councils across England and Wales, is warning that if councils' funding is cut, many may find it impossible to keep on top of road repairs.
Councillor Peter Box, chair of the LGA's Economy and Transport Board, said: "Decades of underfunding by Whitehall, severe winters and recent widespread flooding has left large swathes of our roads in disrepair with many councils struggling to move beyond simply patching up a deteriorating network."
Local Transport Minister Norman Baker said: "In December 2012 we announced an extra £215m to help councils get the best out of their road network. This is on top of the additional £200m we gave to councils in March 2011 to repair local roads damaged by the severe winter weather in 2010.
"It is ultimately up to local highway authorities to determine how they prioritise their funding, but we want to help them get the best value for money. That is why we are funding the highways maintenance efficiency programme which helps councils work together to deliver a first-class service to their residents, at the same time as saving money."