Far-right extremism 'a real threat' says UK security minister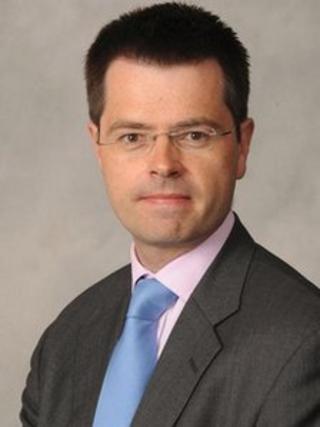 Far-right extremism is a "worrying phenomenon" which poses a "real" threat to UK security, Home Office minister James Brokenshire has claimed.
In a speech, Mr Brokenshire said one in 10 cases referred to a government radicalisation reduction scheme now concerned the far right.
He condemned groups such as the English Defence League (EDL) for "inflaming tensions" with ethnic minorities.
Downing Street has added far-right extremism to its anti-terror strategy.
Speaking to experts at the International Centre for the Study of Radicalisation and Political Violence in London, the minister for security said that, while not as well structured as Islamic terror groups such as Al Qaeda, the terror threat posed was valid.
'Same vulnerabilities'
Mr Brokenshire said: "The far-right threat is not as widespread or systematic... and operationally there are vast differences.
"But... at its core the far-right appeals to people who share many of the same vulnerabilities as those exploited by Al Qaeda-inspired extremism. It feeds off the same sense of alienation and questions around identity.
"It has the same ambition to reshape the world in an impossible way. The threat is real, and our response must be effective."
He added that in 2011, some 17 people were in British prisons for terror offences associated with the far-right movement.
They included Terence Gavan, a former British National Party (BNP) member, who was jailed for 11 years in 2010 after 50 explosive devices and more than 30 guns were found in his concealed room in Batley, West Yorkshire.
The government has added far-right extremism to its Prevent anti-terrorism strategy, including the Channel programme, which uses combined work by local agencies to identify individuals at risk of being drawn into terrorism.
Some 10% of Channel cases now involve individuals motivated by far-right ideologies.
'Respect and tolerance'
In addition, Mr Brokenshire said Britain was hoping to learn from its European partners "many of whom have had even graver difficulties with far-right Extremist groups".
The security minister was scathing of group such as the EDL, saying he "utterly condemns the actions of the so-called defence leagues and their off-shoots".
He went on: "We utterly condemn the offensive, anti-Muslim messages they promote. They are divisive, and run contrary to the values of respect and tolerance of different faiths and beliefs.
"Our response has been based on firm and clear opposition by central and local government, and effective policing of their demonstrations... where necessary, the home secretary has banned marches."
He added that more needed to be understood about whether marches by groups such as the EDL acted as "recruiting grounds" for far-right extremists.