Queen cancels more engagements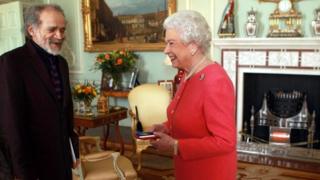 The Queen will not attend engagements planned for Wednesday and Thursday as she is still recovering from her recent illness, Buckingham Palace has said.
All official appearances were cancelled or postponed after she was admitted to hospital for treatment of the symptoms of gastroenteritis earlier this month.
On Monday, she made her first official public appearance in more than a week at Marlborough House in London.
The palace said she hoped to resume all her official engagements next week.
It said she would continue with the "usual rhythm of business at Buckingham Palace", including holding a Privy Council meeting on Wednesday.
'Good recovery'
BBC Royal correspondent Nicholas Witchell commented that it was made clear earlier she would not fulfil all engagements during her recovery.
The Queen was scheduled to visit technology firms in London on Wednesday and attend a chapel service on Thursday but other members of the Royal Family will now take her place.
The Duke of York will represent the Queen on Wednesday while the Duke of Edinburgh will attend the chapel service.
In a statement, Buckingham Palace said: "The Queen continues to make a good recovery following her recent illness, and today she presented the Queen's Gold Medal for Poetry and held a series of audiences.
"However, regrettably, she will no longer attend the Tech City engagement planned for tomorrow, or the Soldiers' and Airmen's Scriptures Association Service at the Guards Chapel."
On Monday, the Queen made her first official public appearance in more than a week at a Marlborough House reception, where she signed the new Commonwealth charter.
But earlier in the day, the Queen was forced to pull out of the annual Commonwealth Day service at Westminster Abbey, for only the second time since becoming monarch.