British farmers 'hanging on by their fingertips'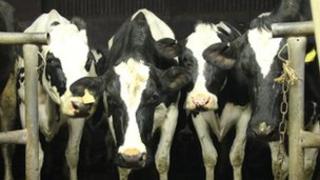 Feeding animals has become a crippling expense for some farmers after a wet, cold winter. Some are now relying on food vouchers in order to keep going.
The number of working farmers asking for emergency financial assistance has almost tripled since last year, a farming charity says.
The second wettest summer on record was followed by a harsh winter, flooded grazing land and ruined crops, all resulting in soaring feed prices many farmers struggle to pay.
The Royal Agricultural Benevolent Institution (RABI) charity supports members of the farming community when they face hardship.
Farmer Kit Dean normally keeps around 80 cattle grazing in the fields of his North Yorkshire farm until mid-October. They have been inside since early June when his fields flooded.
"Some days you do wonder if you can carry on," he says.
"There are times when I wonder if I've failed."
Food prices today are roughly twice what they were six years ago - in some cases even triple.
In 2006, barley cost £70 per tonne, today that has risen to £225.
Other foods that have significantly increased in price include wheat - which has doubled to roughly £215 per tonne - and proteins such as peas, beans and soya - the latter having gone from £250 per tonne last year to its current price of £450.
After spending thousands of pounds on feed, Mr Dean's money has run out.
Some of his animals are now eating what he calls "decidedly second grade silage". Others are eating solely straw.
A poorer diet has resulted in smaller animals which are less marketable, less fertile and make far less money for the farmer.
"I know how I feel when I've got to eat something I don't want to eat," says Dean.
"We give them vitamin supplements and concentrates when we can… but this is just survival really."
To the untrained eye like my own, Dean's cattle look in rude health but he shakes his head and explains, with their restrictive diet, his dairy herd is producing less and poorer quality milk.
He estimates each cow is down by five litres a day, costing him around £2,000 on his monthly milk cheque.
"Their fertility is going all wrong," he says.
"That's losing me time and money too - they're not getting back to calf the way they should be so they're dry for much longer - and no milk means no money."
'Supermarket vouchers'
Dean has worked on a farm for most of his adult life although has only had tenancy of this farm for three years.
With the feed companies phoning incessantly to have their bills paid, Dean became concerned they might cut off his supply completely.
Reluctantly, after months of deliberation, he approached the RABI for help.
They didn't help pay feed costs, they paid his household gas and electric bills.
In January 2013, the RABI gave out a total of £100,000 in emergency grants across the UK.
This is a considerable increase on the £30,000 they gave out in January 2012.
"We see farmers giving everything they have to their livestock," says Philippa Spackman, of RABI.
"They're at the very limits of their overdrafts and they've realised every asset they have to do it.
"In the last year we have been giving out emergency money for basic things like heating and food. It is a bitter irony that we are now sending many farmers supermarket vouchers."
Spackman says that the number of calls RABI receives has increased dramatically - early last year they had around two calls a day from farmers needing help. They now receive six or seven calls every day.
Losing crops
In County Durham, 64-year-old Gilbert Bolton has been made ill with the stress of what National Farmers' Union president Peter Kendall described as the "summer and winter from hell".
I never thought a big strong man like myself would buckle at this sort of thing… but I've been so disillusioned," says Bolton.
In his case, "this sort of thing" means watching 50 sheep get noticeably thin in persistently water-logged fields where they could not graze sufficiently.
He has had to buy expensive supplements - but, he says, even the hardiest breeds still suffer.
Over half of his silage crop was lost to the rain and the bales he did cut were of far poorer quality than usual, meaning the animals are smaller, thinner and not growing properly.
"I should have at least 40 or 50 cattle to sell," says Bolton.
"These are just too small so I'll have to hang onto them… and find an extra eight months of feed."
Some economists, like former government farming advisor Sean Rickard, think that it is not just the weather that is having an adverse effect on British farming.
"We have a romantic view," he says.
"The Cap [EU's Common Agricultural Policy] maintains farmers in business no matter how inefficient they are and keeps the size of farms smaller than they should be.
"Many farmers are already hanging on by their fingertips and don't have the spare income to put aside for a rainy day or to reinvest in the business. The larger the farm, the more efficient the farm, the lower the cost of production."
But in North Yorkshire, despite Dean's back-breaking workload getting even more exhausting, he is sure that given the right conditions, his small farm can succeed.
"What I need is an early spring," he says.
"And a summer of sunshine. Then I know I can make this work… I will make this work."
In Bolton's sodden fields in County Durham, only thin, weedy green shoots pepper the acres of mud. He stares at his sparse crop, keeping his eyes firmly on the ground.
"I want to be proud of it all again," he says.
"I want to be able to lift my head high as I drive past my fields and say, yes, that's a good green field, that's my work and I'm proud of it."