Tenants' rent arrears soar in pilot benefit scheme
By Michael Buchanan & Chris Vallance
BBC News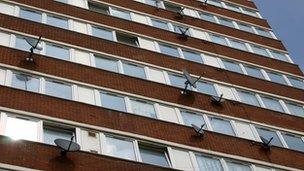 Rent arrears among tenants on a government pilot project that pays housing benefit directly to recipients have seen a big increase, figures show.
One area is predicting a £14m loss if the new system is implemented for all its tenants, the BBC has learned.
Paying housing benefit directly to recipients, rather than their landlords, will form a key part of the planned new Universal Credit.
The government says lessons will be learned from the pilot projects.
It wants to pay recipients directly as they think it will increase their sense of responsibility over their own lives and make them better able to cope should they move into a job.
The Department for Work and Pensions has run pilot projects in six areas since last June to see how well tenants would cope with having their housing benefit paid directly to them.
Thousands of people have been moved onto the new scheme in the selected areas - Edinburgh, Wakefield, Shropshire, Oxford, Cwmbran and Southwark in south London.
Figures obtained by BBC News show that arrears among tenants of Wakefield and District Housing in West Yorkshire have increased from an average of 2% to 11% on the pilot projects.
Chief executive Kevin Dodd said he hoped the level of arrears would fall as they made efforts to help tenants better manage their money.
But even taking that into account, he told the BBC: "If you roll that out to 31,000 tenancies we will be increasing our bad debt provision by a further £2-3m a year."
Bron Afon community housing in south Wales said it had seen a 50% increase in arrears, while pilot projects in Edinburgh, Oxford and Southwark are showing around 30% increases in arrears.
Southwark Council predicts it will incur £14m in arrears if direct payment is introduced to all their tenants.
"People have clocked up arrears who were not in arrears before," says Duncan Forbes, chief executive of Bron Afon.
"And the worry is will they panic, will they stop paying, will they feel they've lost control and end up being evicted."
One tenant failing to cope is Margaret Tonks, a single mother from Broseley, Shropshire.
She approached her local Citizens Advice Bureau (CAB) after using some of her housing benefit to pay for gas and electricity and has now built up arrears.
"I do not know why they moved me to the new scheme," she said. "I hardly have enough money to live day-to-day.
"By them paying the money directly to me it created temptation to use it for other things which has resulted in me being in arrears and possibly being evicted. "
It is a story familiar to Andrea Thomas, a CAB manager in Cwmbran, south Wales. Several local tenants on the direct payments project have needed help to cope with the new system, all with mental health problems.
"The reality that we found is that the most vulnerable people in society… they simply cannot cope with it," she said.
"So they are the ones at risk of not realising what the money in their bank account is for and going out and spending it."
As well as noticing a large increase in arrears, all the pilot projects have seen increases in the costs of getting the rent from the tenants. Some projects have had to double staffing costs as many tenants have been unwilling to pay by direct debit.
In Bron Afon, approximately 90% of tenants do not pay by direct debit.
"Direct debits are not a good way of paying if you are on very low incomes," says Duncan Forbes.
"If a direct debit is due and there is no money in the bank, it can cost you £30-£40 as a penalty."
None of the projects the BBC spoke to have any regrets about their involvement in the pilots and many talk about the willingness of their tenants to engage with them.
But the reality for all of them is that their incomes have fallen and their costs have increased, leading to greater uncertainty for both them and their tenants.
The Department for Work and Pensions said it has helped the pilots to learn lessons and ensure the scheme is effectively implemented.
Minister Steve Webb said: "We currently pay housing benefit directly to one million people in the private sector and that works pretty well.
"We are trying to treat people in council houses the same way, but we want to get it right."