Queen to sign equal rights charter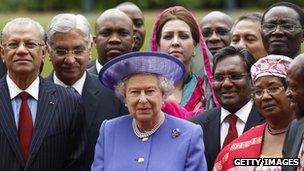 The Queen is to sign a new charter on Monday backing equal rights in every Commonwealth nation.
The monarch will sign the 16-point document at an event in London to mark Commonwealth Day.
The document declares: "We are implacably opposed to all forms of discrimination, whether rooted in gender, race, colour, creed, political belief or other grounds."
It was adopted in December by all 54 Commonwealth nations.
The 16 areas of affirmation cover democracy, rule of law, international security and freedom of expression.
Prime Minister David Cameron has in the past pressed Commonwealth leaders on the issue of gay rights.
A Buckingham Palace spokesman said: "At a Commonwealth event on Monday, the Queen will sign a charter agreed upon by the 54 members of the Commonwealth.
"The Queen, as in all matters, is apolitical but is signing the document in her capacity as head of the Commonwealth."
Sources close to the royal household said the Queen would not give her personal endorsement to the charter because of her apolitical status.
It will be the Queen's first official engagement since leaving hospital earlier this week, where she was treated for gastroenteritis.