Murdoch 'interested in' UKIP says Farage after dinner meeting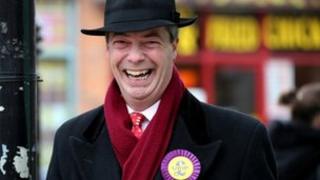 Rupert Murdoch is "interested" to find out what the UK Independence Party is up to and how much support it has, its leader Nigel Farage has said after meeting the tycoon for the first time.
The two men had dinner in Mr Murdoch's London flat on Tuesday.
Mr Farage said Mr Murdoch was a "remarkable bloke" but would not comment on what they had discussed.
In a tweet after UKIP's second place in the Eastleigh by-election, Mr Murdoch suggested it was "reflecting opinion".
According to the Daily Telegraph, Mr Farage suggested to Mr Murdoch at the meal that he would form an electoral pact with the Conservatives if David Cameron stood down as leader.
The UKIP leader has previously suggested he would be prepared to talk to other senior Conservatives, such as Education Secretary Michael Gove, about possible co-operation in 2015 but not the prime minister.
Asked about the meeting with the media mogul, Mr Farage told the BBC: "He's a remarkable bloke. I enjoyed meeting him enormously but the political content I am going to choose to keep private."
'Reflecting opinion'
The meeting took place five days after UKIP caused a major upset by coming second in the Eastleigh by-election - won by the Liberal Democrats - pushing the Conservatives into third.
On Twitter, Mr Murdoch drew parallels between the UK and Italy after visiting Europe this week.
He tweeted: "Politics both places very fluid, economies going nowhere. New leaders emerging on distant horizon.
"Stagnant Europe wracked by discontent and resentment of EU. Glad we contributed to UK resisting the euro over many years.
"Boris Johnson, Michael Gove, few excellent, frustrated ministers. Farage reflecting opinion."